WND Goes All In On Discredited Seth Rich Conspiracy Theories
Topic: WorldNetDaily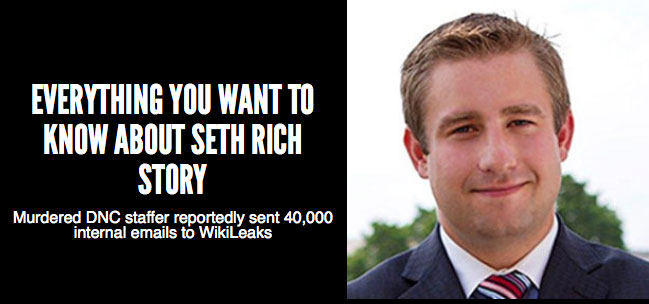 This little statistic tells you all about WorldNetDaily's news priorities: In the past day or two, WND published exactly one original article on the claims that President Trump shared classified information with the Russians and that Trump told ousted FBI director James Comey to end his investigation of onetime Trump national security adviser Michael Flynn. Bob Unruh desperately spun the former claim as a "report based on a leak from an unnamed source" and the latter as "purportedly based on a memo supposedly seen by two unidentified agents."
By contrast, WND cranked out six articles on developments regarding the 2016 death of Democratic National Committee staffer Seth Rich.
First up was Chelsea Schilling asserting that Rich "was communicating with WikiLeaks before his death, according to the family's private investigator," and had purportedly sent "44,053 emails and 17,761 attachments" to WikiLeaks.
Except that Rod Wheeler, the man Schilling described as "the family's private investigator," well, isn't -- he was hired by and paid for by money manager and frequent Fox News guest Ed Butowsky, and the family has dissociated itself from Wheeler's claims. Schilling later edited her article to vaguely concede that Wheeler "was hired by a third party to investigate for the Rich family," but curiously did not identify his funder.
That was followed by a usual WND trope: an article by Garth Kant complaining that nobody else is covering the story, in this case "potentially explosive" allegations from private investigator Rod Wheeler that Rich purportedly "emailed 44,053 DNC emails to WikiLeaks" before his death in an apparent botched robbery attempt. That "could throw a wrench into the narrative that Russia hacked the Democratic Party's emails during the 2016 presidential election in order to influence the presidential election," Kant breathlessly speculated.
Then came a similar complaint from Leo Hohmann that "The story that many conservative media considered a 'bombshell' Tuesday didn't even register as a blip on the screens of CNN, ABC and CBS."
Bob Unruh then weighed in with an article claiming to recount the history of the case, adding that Rich's murder "took place the same month emails released by WikiLeaks on the eve of the Democratic National Convention revealed the Democratic National Committee was manipulating the party's primary to ensure Hillary Clinton defeated Sen. Bernie Sanders of Vermont for the party's presidential nomination." He too falsely claimed that Wheeler was "hired by the Rich family."
Unruh followed that with a profile of Rich that also recounted the conspiratorial allegations.
Then WND fully goes there in an anonymously written article declaring that "Seth Rich's death shares some eerie similarities with many mysterious deaths of individuals linked to former President Bill Clinton and twice failed presidential candidate Hillary Clinton." That's right -- it's time for WND's umpteenth rehasing of the completely discredited Clinton Body Count (and a minor rewrite of an article WND first published shortly after Rich's death).
While WND was going all in on the Rich story, however, that story was falling apart. Wheeler lacks credibility as an investigator -- we flagged him in 2007 pushing the claim (which WND enthusiastically repeated) that there were "lesbian gangs" in Washington, D.C., who used guns painted pink. Wheeler had to walk back that claim, and he's walking back his claims about Rich as well.
Wheeler is also admitting that he has no evidence Rich ever contacted WikiLeaks and that he has never seen Rich's computer, let alone any emails he might have sent. Wheeler also admitted he never talked to the "federal investigator" he cited as evidence for his claims.
Needless to say, WND can't be bothered to do a story on that.
Posted by Terry K. at 3:20 PM EDT