What LGBT Stuff Is The MRC Freaking Out About Now?
Topic: Media Research Center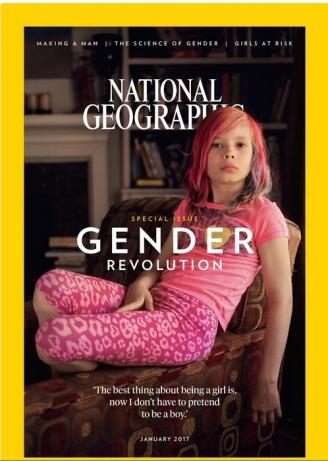 The Media Research Center just loves to freak out about gays and transgenders in the media, and it's continuing to do so.
A Dec. 19 post by Maggie McKneely complains:
Move over, transgenders. There's a new kid in town.

Huffington Post reported that Billions will make "TV history" for featuring the first gender non-conforming star in a mainstream show. Showtime, Billions host network, has a history of pushing boundaries with its leading characters. Season seven of Shameless included a major character who was transgender, played by a transgender actor.

Billions new star is the next politically correct step for the network. Asia Kate Dillon, from Orange Is the New Black and Master of None, has been cast as Taylor, the new intern at the hedge fund run by billionaire Bobby "Axe" Axelrod. In addition to, and probably more importantly than, her prowess at navigating the financial world, Taylor identifies as gender non-conforming.

[...]

From Law & Order, Chicago Med, Star, and others, the networks have been following the Hollywood agenda and making transgender characters an ordinary occurrence onscreen. If normalizing non-gender characters are the subsequent item on the to-do list, one can only wonder who (or what) will be next.
McKneely does not explain why transgenders and the gender non-conforming must be denounced in the media as abnormal.
The transgender child on the cover of National Geographic resulted in predictable outrage from Melissa Mullins:
Transgender, cisgender, gender nonconforming, genderqueer, agender, or whatever name you want to call it, this "fluidity" seems to be the trending topic covered in the media these days – and although it may appear an unlikely outlet for such a topic, National Geographic is the latest to jump on the bandwagon by featuring a nine year old transgender girl by the name of Avery Jackson on the cover of its upcoming issue. If you are unaware of the aforementioned names, no worries – the upcoming issue comes complete with a glossary of more than 20 terms redefining gender.
Mullins went on to huff that despite national Geographic being absorbed into Rupert Murdoch's empire, "the magazine can still be a progressive darling….even as its claims to respect 'science' go up in smoke in the pursuit of political correctness, declaring gender is a 'spectrum.'" Mullins doesn't explain how "science" doesn't show that gender is not a spectrum.
Poor Tim Graham, meanwhile, spent his Christmas day ranting about drag queens who perform "progressive subversive humor":
The Washington Post easily proves it's a secular liberal newspaper at Christmas time. On Friday, the Post promoted a "dragapella" quartet mocking Christmas (and the incoming administration) in two different sections of the paper, in the Style section and in the Weekend tabloid. In Style, theatre critic Celia Wren hailed the Kinsey Sicks and their show "Oy Vey in a Manger!" at the D.C. Jewish Community Center.
Yes, it seems Graham really had nothing better to do on Christmas than complain about this.
Sarah Stites was upset that a story about a transgender boy who's being prohibited from joining the Boy Scouts is getting media attention, whining, "The fact that Boy Scout membership is limited to males has not always been newsworthy. However, in the current media landscape, such a 'controversial' claim garnered three minutes of network airtime and copious online news coverage."
Stites further fretted that the Boy Scouts of America may "buckle from the pressure of media and activist groups." She's also worried that Scouts for Equality, which "was partially responsible for pushing BSA to lift its national bans on gay scouts and leaders in 2015," is weighing in on this issue and will "force" BSA to make a decision on the issue.
And Graham and Brent Bozell ranted about non-straight people in the media in their Dec. 31 "cultural winners and losers" column:
Winner: Transgender propaganda products. The Danish Girl, a fictionalized account of the first man to undergo a sex change operation, led to an Oscar for Alicia Vikander, who played the man's supportive wife. The Amazon web show Transparent was showered with TV awards again. ABC's Modern Family made "history" by featuring an eight-year-old girl ("transgender boy") to raise our awareness of "gender fluidity."
Leave it to LGBT-haters like Graham and Bozell to insist that portraying transgender people as actual humans and not freaks is "propaganda."
Posted by Terry K. at 8:33 AM EST