MRC' Vazquez Spreads Wild Anti-Biden, Anti-ESG (And Russian) Conspriacy Theories Over Ohio Train Derailment
Topic: Media Research Center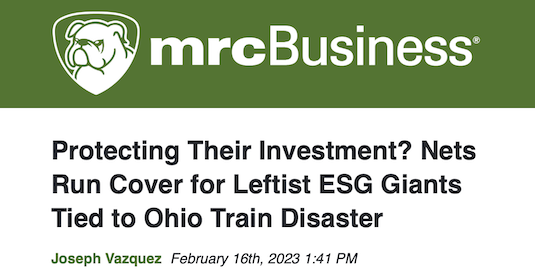 As part of the Media Research Center's strategy to exploit a train derailment strategy in Ohio to advance partisan agendas, a Feb. 16 post by Joseph Vazquez tried to manufacture a conspiracy theory by dragging in right-wing-mandated anti-ESG talking points:
ABC's, CBS's and NBC's premature abandonment of coverage of the environmental disaster in East Palestine, Ohio may have been a gambit to protect the leftist pro-environmental, social, governance (ESG) standard giants tied to the incident.

[...]

It turns out that ESG-obsessed investment giants like The Vanguard Group, JPMorgan Investment Management and BlackRock Fund Advisors, are Norfolk Southern's largest shareholders. The combined stake between the three shareholders is valued at a sizable $9,392,760,704 as of Feb. 16.

"It truly is incredible, the lackluster coverage that the train derailment and subsequent evacuation in East Palestine, Ohio has received from the Big Three," asserted MRC Free Speech America & MRC Business Director Michael Morris. "Can you imagine if the same sort of ecological disaster had occurred under the Trump administration? Undoubtedly, the Big Three would be doing all that they could to somehow pin the blame on the former president of the United States. But now, with the Biden administration at the helm — not much more than crickets."

[...]

Strikingly, both Vanguard (Norfolk Southern's largest shareholder) and BlackRock have been at the center of a leftist movement to radically change American culture through the force of ESG standards in corporate America.

ESGs provide a smokescreen for left-wing bigwigs in C-suites to force radical leftist politics onto shareholders, according to former McDonald's CEO Edward Rensi. Utah State Treasurer Marlo Oaks called ESG "the greatest threat to our freedoms in America today without question," during an< exclusive interview with MRC Business.

The fact that ESG-obsessed companies are tied to the Norfolk Southern disaster blows their eco-virtue signaling on sustainable investment completely out of the water and makes the Big Three prematurely dropping the coverage look even more despicable.

Could it be that the Big Three are doing everything they can to protect their shareholders' investment in Norfolk Southern?
But doesn't the fact that these funds invest in Norfolk Southern actually prove that they are, in fact, not "EDG-obsessed"? Despite all of the right-wing ferarmongering on the issue, nobody's actually being forced to invest in ESG against their will -- it's simply an option being made available for those who care about it.
In a Feb. 17 post, Vazquez showed the MRC's political agenda again and manufactured another conspiracy theory:
The Big Three networks ignored news that the Biden administration denied disaster assistance to Ohio's pro-Trump Columbiana County following the toxic train derailment in East Palestine.

Fox News reported Feb. 16 that Governor Mike DeWine (R-OH) spokesperson Dan Tierney said the Federal Emergency Management Agency (FEMA) denied federal aid because it "believed the [train derailment] incident didn't qualify as a traditional disaster, such as a tornado or hurricane, for which it usually provides assistance." The incident led to a controlled explosion and the spewing of hazardous fumes into the atmosphere, with reports of groundwater damage, dead animals and health issues circulating. Newsweek even reported the turmoil could evolve into a "Full-Blown Ecological Crisis." The denial of aid calls into question why the U.S. government is willing to commit more than $24.9 billion in security assistance to Ukraine since the beginning of the Biden administration but not an American town in turmoil.

Additional context may provide some insight as to why Biden's FEMA did not pursue providing aid for that particular area, and why the ABC, CBS and NBC morning and evening news shows chose to ignore the story between Feb. 16 - Feb. 17.

Biden released details on a new executive order advancing racial equity on Feb. 16, the same day as the Fox News report. Biden claimed his goal was to "advance an ambitious, whole-of-government approach to racial equity and support for underserved communities and to continuously embed [racial] equity into all aspects of Federal decision-making." According to the latest breakdown, East Palestine is 93.5 percent white, three percent Hispanic, and only 0.36 percent black.

In addition, Columbiana County, where East Palestine is located, 71.7 percent of the vote went overwhelmingly for former President Donald Trump in the 2020 election.
But in pushing this wacky conspiracy theory that the Biden administration wants white Trump voters to die, Vazquez omitted the one relevant piece of context: The derailment falls outside of federally mandated definitions for a disaster in which FEMA can assist -- namely, it was caused by a private company, not natural forces, and no property damage occurred in the immediate aftermath. Vazquez also censored ther fact that other federal agencies have provided assistance and that President Biden contacted Republican Ohio Gov. Mike DeWine to pledge federal help.
Vazquez went on to rehash his bogus ESG conspiracy and concluded by huffing: "By ignoring Ohio being denied disaster aid by a partisan, racially-charged Biden administration, now the media look even more asinine." That's right -- a guy who spreads asinine conspiracy theories thinks everyone but him looks "asinine."
When the Associated Press reported that Russian-linked Twitter accounts spread conspiracy theories about the derailment that echoed conservatives' own talking points, Vazquez had another freakout in a March 20 post:
The Associated Press attempted to blame Twitter owner Elon Musk and "pro-Russian" Twitter accounts for Americans' distrust of Big Daddy Government and liberal media gaslighting about the toxic Ohio train disaster. Talk about a ridiculous attempt at a stretch.

AP whined in a Mar. 18 story — "Pro-Moscow voices tried to steer Ohio train disaster debate" — that "anonymous pro-Russian accounts" used "Elon Musk's new verification system" to spread "misleading claims and anti-American propaganda" about the East Palestine, Ohio train derailment. The train's derailing led authorities to create a controlled explosion that released toxic fumes into the atmosphere.

"The accounts, which parroted Kremlin talking points on myriad topics, claimed without evidence that authorities in Ohio were lying about the true impact of the chemical spill," AP complained.

Apparently AP didn't learn anything from the Twitter Files. Just because left-wing talking heads call an account "pro-Russian" doesn't mean it is, and a deeper dive into AP's sources just makes its propaganda seem more like a pathetic attempt to protect government talking points.
Actually, Vazquez is the one trying to protect talking points -- in this case, right-wing and anti-Biden talking points that have been opportunistically used to exploit the derailment.Indeed, he dragged out olther faulty talking points to attack the AP:
AP said London, U.K.-based group Reset identified the "pro-Russian" accounts. Ben Scott, the group's executive director, was "the technology policy advisory group" lead for Hillary Clinton's 2016 campaign — the same campaign that served as the genesis of the Trump-Russia collusion hoax, which AP itself mindlessly promoted.

AP didn't bother mentioning this in its write-up, and neither did CNN has-been Brian Stelter plastered the story on his Twitter feed. Journalist Glenn Greenwald raked Stelter over the proverbial coals for his thin veneer of media analysis bonafides and lack of critical thinking skills.
Vazquez offered no evidence that Reset was involved in the "the Trump-Russia collusion hoax" (which, by the way, wasn't a hoax). And it appears that Vazquez is suffering from Stelter Derangement Syndrome like his fellow MRC employees.
Vazquez then invoked the MRC's own alleged "media research":
AP was content to throw spaghetti at the wall and see if something would stick. Some of the so-called "verifiably false" "pro-Russian" claims that AP tried debunking included the "suggestion that the news media had covered up the disaster."

But a recent, non-Russian affiliated MRC study revealed that the Big Three broadcast network's morning and evening news shows all but dropped coverage of the Ohio disaster once the county permitted residents to return home Feb. 8. All six shows fell just shy of spending a combined 30 minutes on the topic between when the incident first occurred on Feb. 3 and when the evacuation order for East Palestine was lifted on Feb. 8.

The networks regurgitated the public relations gaslighting by the Norfolk Southern Corporation, the owner of the railway responsible for the derailed train. The Big Three rediscovered the topic Feb. 14 - Feb. 15 – nearly a week after the evacuation ended – once it became clear that they were the three most prominent networks that had stopped covering it.

But in AP's world, the notion that the media provided lackluster coverage of the Ohio train disaster is a "verifiably false" and "pro-Russian" claim.
Insisting that the MRC study was "non-Russian affiliated" is something someone affiliated with Russians would say (and he offers no evidence or reason to trust his word). But as we documented, the very first article the MRC published about the derailment was that study -- 11 days after the derailment occurred. Why? Who did the MRC strategize with to determine that this tragedy needed to be exploited for political purposes? Did they have Russian accents? And why is the MRC so comfortable pushing the same narratives that Russian bots are?
Vazquez's post actually raises more questions than it answers -- questions he clearly doesn't want to answer. He seems to be protesting a bit too much about the Russian stuff.
Posted by Terry K. at 10:42 PM EDT