CNS' Coverage Of Santos Lies Almost Entirely On Commentary Side
Topic: CNSNews.com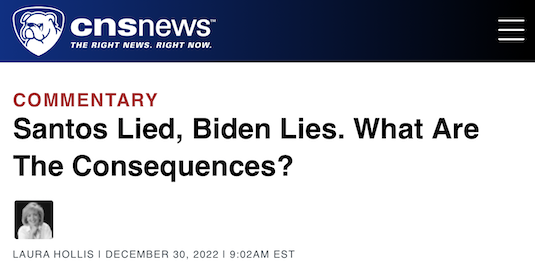 In a Nov. 9 CNSNews.com article, Micky Wootten gushed: "In an election night highlighted by the GOP's underwhelming performance nationwide, four of New York's congressional seats flipped from Democrat to Republican." His first example: "Republican George Santos, a gay Trump supporter, defeated Democrat Robert Zimmerman." That, believe it or not, is the only "news" coverage CNS has done of Santos. As Santos' trail of lies became increasingly exposed, the deflections and whataboutism -- following in the footsteps of CNS' Media Research Center parent -- were left to the commentary section.
A Dec. 19 column by Daniel Mitchell was actually early in noting the story (days before the MRC did), highlighting how "The New York Times has a fascinating look at how a freshman Republican apparently created a fictional life story during his successful campaign for Congress." But then he immediately played an incredibly lame bit of distraction:
As reported by Thomas Catenacci of Fox News, the Secretary of Transportation is a big believer that global warming is a major problem.

But that does not stop him from using taxpayer-funded private jets to advance his political ambitions.

[...]

I have an entire page dedicated to "Honest Leftists," but maybe I also need a page for "Hypocritical Leftists." Buttigieg definitely qualifies.

Though the real scandal isn't his use of private jets rather than commercial flights. It's the fact that he's the head of a department that shouldn't even exist.
Santos didn't get mentioned again at CNS until a Dec. 30 column by Laura Hollis -- another writer it lifted form WorldNetDaily , where this column was also published -- that went full whataboutism:
Once upon a time, this would have produced outrage. Now, it barely registers. A "senior GOP leadership aide" reported to the New York Post that Santos' -- ahem -- "embellishments" of his background were well known and a "running joke" with Republicans.

Democrats, of course, are demanding that Santos resign. But they are in no position to point fingers. Elizabeth Warren, a Democrat from Massachusetts, infamously claimed to be a "native American" on the basis of her family stories. She continues to serve as a United States senator and even ran for president.

Speaking of presidents, Joe Biden has made a career out of lying. He has said he graduated at the top of his law school class at Syracuse University (he graduated in the bottom 10%); that he was the Outstanding Political Science student at the University of Delaware (he wasn't); that he received a commission to the Naval Academy (nope). He plagiarized a paper in law school. He later plagiarized a speech originally given by former British Labour Party leader Neil Kinnock. He claimed to be the first in his family to go to college (he wasn't). He said he got arrested in South Africa in the 1970s trying to see Nelson Mandela (he didn't). He exploits public sympathy for the tragic deaths in his family, claiming that his son Beau died in Iraq (he died of cancer in a Maryland hospital) and that a drunk driver killed his first wife Neilia and their 1-year-old daughter Naomi (the other driver was not drunk, and Neilia Biden was at fault in the crash).

No consequences.
CNS also published a Jan. 4 syndicated column by Star Parker taht also went the whataboutism route -- What did Santos fabricate any more than the "1619 Project" fabricated about what American history is about? -- while playing the distraction card as well, calling him "a child of woke America" where, supposedly, "a sense of objective right and wrong has widely disappeared, there are no rites of passage, and many remain perpetually children."
The next reference to Santos on the "news" side came in a Jan. 26 article by Melanie Arter, but only as a passing reference as the running joke Hollis said it would become, in a quote from Republican Sen. John Kennedy: "President Biden says my party, I, want to gut Social Security and Medicare and Medicaid, and that's not true. Not even George Santos would make up a whopper like that, and the president knows that." Arter added; "Kennedy was referring to Rep. George Santos (R-N.Y.), who was caught lying about his background"; of course, nobody who gets their news from CNS would actually know that.
Posted by Terry K. at 5:52 PM EST