CNS Trashes Competition For RNC Chair Before Effectively Endorsing Her
Topic: CNSNews.com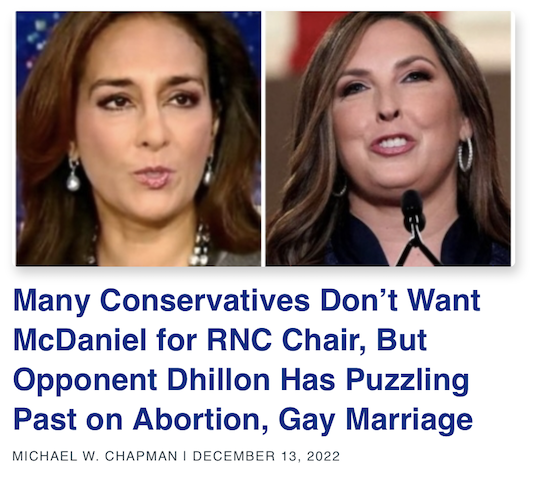 We've noted how CNSNews.com lovingly quoted Republican National Committee chair Ronna McDaniel touting before the midterm elections that Republicans were all lawyered up and poll-watcher-laden to attack the polls if things went badly for Republicans. Unfortunately for her, Republicans performed poorly enough that mass election challenges weren't plausible -- which put her in a precarious position for staying in power at the RNC. CNS has largely stayed out of that battle -- but it did publsih a Dec. 13 article by managing editor Michael W. Chapman that noted McDaniels' failures but devoted much of it to attacking her main competition for the job, Harmeet Dhillon, for the offense of being insufficiently hateful of LGBTQ people and abortion:
Although 107 Republican National Committee members have signed a letter in support of Ronna McDaniel to be reelected to a fourth term as RNC chairwoman, many conservatives in D.C. and across the country want California Republican Harmeet Dhillon to take the position.

Some conservatives say McDaniel has a long losing streak and needs to go. However, critics have noted that Dhillon has a controversial past on issues such as abortion, transgenderism, and gay marriage, which may make her less than ideal.

In addition to the 107 RNC members (out of 168) who back McDaniel – more than enough votes to win the election in January – SBA Pro-Life America President Marjorie Dannenfelser praised her and endorsed her for reelection.

[...]

However, long-time conservative leader Morton Blackwell tweeted on Dec. 10, "As Republican National Committeeman for Virginia, I support Harmeet Dhillon for Chair of the Republican National Committee. She has a long and successful record as a leader for conservative principles at the state and national levels."

Attorney and Republican activist Victoria Toensing told CNS News that many people she has spoken with "are very upset with" McDaniel, and some say "she's a loser."

"I want to express my support for Harmeet," said Toensing.

Harmeet Dhillon, an attorney, leads the California Republican National Committee, founded the Center for American Liberty, and frequently appears as a commentator on Fox News.

[...]

Concerning some of Dhillon's controversial background, Suzanne Bowdey wrote in The Washington Stand, the Family Research Council's news and commentary outlet, that the lawyer has defended Christian students, pro-life journalists, and gender-transition victims over the years. However, Dhillon has also "aligned herself with Republicans who identify as transgender, voiced evolving views on abortion, and said the government should have no role in sanctioning marriages."

Dhillon is a former board member of the ACLU, former donor to Kamala Harris' district attorney race in San Francisco, and former general counsel to Caitlyn Jenner's (Bruce Jenner) gubernatorial run in 2021. In addition, Dhillon worked for Richard Grenell, a gay-partnered man who served as Director of National Intelligence in the Trump administration.

The Washington Stand further reported that Dhillon's positions on abortion and gay marriage "seem to have 'evolved' over the years."
Yes, "evolved," as in ... moving from a total abortion ban to allowing it "in limited circumstances — life of the mother and rape" and deciding that "the government should not interfere in most private choices by individuals." As if being a slightly less intolerant right-winger is "controversial."
Uitimately, though, Chapman seems cool with Dhillon being RNC chair -- even citing his favorite dishonest Catholic and his boss' kid in support -- even if he's also resigned to McDaniel staying in power:
Despite these controversies, there is no doubt that Dhillon has done yeoman's work over the years fighting for pro-life clients and other conservative causes, as The Washington Stand details. And when compared it comes to the RNC race, many conservatives prefer Dhillon.

As Catholic League President Bill Donohue told CNS News, "In professional sports, losing coaches are often fired at the end of the season, if not before then. … Ronna McDaniel presided over a losing midterm election. She has to go. Given the monumental failure of the first two years of the Biden administration, expectations were running high that Republicans would post record gains. They did not. One reason they didn't is because of McDaniel's leadership."

"Fortunately, Harmeet Dhillon is waiting in the wings," said Donohue. "Smart and courageous, she would give the GOP a real shot in the arm. It's not a close call."

ForAmerica President David Bozell said, "There is no disputing that the Party has struggled to compete statewide, cycle after cycle, in the same critical states: Arizona, Pennsylvania, Georgia, and Nevada are top of mind. Romney-McDaniel has had multiple election cycles to solve this problem and yet, the Party remains stuck in neutral. 'Those who cannot remember the past are condemned to repeat it.' It's time for new thinking at the top of the GOP."

[...]

Republican Lee Zeldin, who decided not to run for RNC chairman, said in a statement, "The better path forward would be for Chairwoman McDaniel to listen to and respect the wishes of the actual grassroots voters of our party, and allow the RNC to forge ahead with new leadership. Her greatest service to the Republican Party at this time would be to make room for a new chair."

Zeldin added, however, that McDaniel's reelection seemed "pre-baked by design," implying it would be tough to unseat an incumbent from the RNC chair.
That's how Chapman both-sides an issue where it would not advance right-wing narratives to explicitly take a side.
Posted by Terry K. at 12:42 AM EST
Updated: Thursday, January 19, 2023 12:50 AM EST