MRC's Mandelburg Rages Against Abortion And Those Who Support And Have Them
Topic: Media Research Center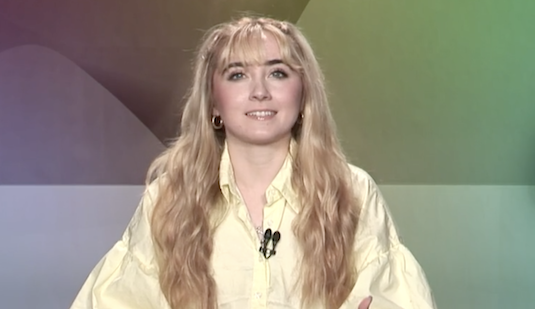 Tierin-Rose Mandelburg is the Media Research Center's resident abortion extremist, who believes women who have abortions are serial killers and advocates an Orwellian surveillance state to closely monitor women living in states where abortion is illegal in case they travel to another state where abortion is legal. She unsurprisingly spent much of last year spewing hate at abortion, those who support and the women who have them. In a July 15 post, she complained that the feminist site Jezebel highlighted the murder of a pregnant woman as an example of how the overturning of Roe v. Wade could result in more domestic violence:
Last week a Missouri man reportedly murdered his wife after a "heated argument about his affair with another woman." The man's wife was supposedly six weeks pregnant and used her phone to search "what to do if your husband is upset you are pregnant," according to police.

Jezebel pointed out that the woman's pregnancy was a "risk" and was the cause for her murder. The outlet suggested that perhaps if she weren't pregnant, her husband wouldn't have killed her. This was Jezebels attempt to advocate for abortion rights.

[...]

I don't think that abusers should go without severe punishment, but I also don't think the solution to an abuser is to end the life of an innocent child. This lady's husband was psycho and it is a tragedy that she and her unborn baby died. The solution to death is not more death.

Things like this are unfortunately going to keep happening but not because of abortion bans but because some people are unable or unwilling to acknowledge that all life has intrinsic value.

When society indicates that not all life is valued, some life inevitably becomes disposable. Every second that abortion is still legal contributes to this mindset.

Why would it matter if a pregnant woman is killed if it doesn't matter if her baby is?

That's the vile attitude that many possess and that's why people are subject to domestic abuse. Ending abortion isn't going to stop psychos from killing.
Mandelburg spent a Sept. 28 post raging at a comedian's abortion-related jokes:
"I feel guilty, not getting an abortion when I still had the chance."

Ladykiller series is set to debut on September 30. The series is a comedy special where comedian Jena Friedman will talk about "marriage, motherhood, and murder" with a strong emphasis on the pro-abort narrative.

[...]

"Sorry," she added while turning to expose her very pregnant belly and then continuing "while we still had the chance." Her sarcasm on that last "joke" was deafening.

The audience erupted into laughter at her insistence that there was a "we" due to the fact that she was pregnant. I presume they're all in support of dehumanizing unborn children in order to justify their radical pro-death views.

[...]

Unfortunately, Freidman wasn't overdramatizing her talking points for the entertainment aspect. In a statement following filming Ladykiller, Freidmen said that the show "made me really appreciate having a platform where I could talk about some of the things I have been losing sleep over since Roe was overturned, and to do so particularly before the midterms."

Great, so she really is just a horrible human.
The next day, Mandelburg was outraged that another comedian pointed out a location where it's still legal to have an abortion:
On today's list of people I cannot stand: Amy Schumer.

In an elevator-pitch style, Amy Schumer promoted her show "Inside Amy Schumer." Schumer advocated for women to visit Colorado for its best attraction: being a state that supports the slaughter of the unborn.

[...]

At the end of the clip, Schumer walked viewers through the use of a private browser to check out different abortion service sites. She also made sure to encourage people to "subscribe to an encrypted VPN internet provider" and to delete search history.

Schumer also insisted that these services are available "for a limited time only," alluding to the dwindling opportunity to murder an innocent child (good!).

It's pretty cringe-inducing for people to be so adamant about killing kids that they have to make entire shows glamorizing it. This is not something I'll be wasting my free time watching. That's a promise.
Oh, but if the MRC paid her to hate-watch Schumer's show, she would happily do it, as we learned when she hate-watched a drag queen on "DancingWith the Star" despite vowing not to do so.
An Oct. 4 post by Mandelburg petulantly ranted about a perfectly legal mobile abortion clinic:
This is not fake news.

On October 3, Planned Parenthood announced its creation of a mobile abortion clinic. According to NPR, Planned Parenthood plans to drive the bus to red-state borders to make the act of murdering unborn babies more accessible.

How pleasant.

The first mobile clinic is set to open in southern Illinois, a state where abortion is not only legal but celebrated.

[...]

I wonder if it will have a morgue attached to the clinic considering all the murders it plans to conduct. And hey, "We Deliver" could be a great value-add to Planned Parenthood's baby parts business.

This is a grotesque play from the left. Planned Parenthood is a vile organization that dehumanizes the unborn and treats their lives like mundane inconveniences that need to be eliminated.

This mobile clinic is a disgrace. I hope they bought a lemon.
Mandelburg raged against the mobiile abortion clinics again in a Nov. 2 post:
Baby on board? Not for long.

On Wednesday's CBS Mornings, co-host and Democratic donor Gayle King introduced Planned Parenthood's new "solution" to abortion bans — mobile abortion clinics. Though CBS did include the perspective of one pro-lifer, the overall climate of the clip is a celebration of the mobile baby morgues.

[...]

Money spent to save women and children is much better than an RV aimed to kill but, this is the left we're dealing with.
Mandelburg also targeted Vice Presient Kamala Harris for failure to hate abortion the way she does. She spent a Sept. 9 post complaiing that Harris referenced abortion rights while speaking at a religious convention. The anti-abortion extremist unironically complained that Harris "likened pro-life legislatures to 'extremists,'" adding:
Harris also referenced verses from 1 Corinthians, but declined to reference any other passages from the Bible in which the Lord commands, "Thou shalt not murder," nor the other parts in which Scripture reminds us of the sanctity of life. None of that helped her narrative.

Christianity is clearly against abortion, but Harris still claims to follow it closely --- yikes.
Mandelburg similarly complaikned in an Oct. 5 post:
I find it hysterical that Harris often alludes to faith when trying to justify abortion. She claims to be a Christian and follow the Holy Bible, which is unquestionably against abortion. Even so, she pretends that faith and abortion are on the same page.

"One does not have to abandon their faith or beliefs to agree that the government should not be making these decisions for the women of America," she added.

Perhaps her translation of the Bible is different than mine.

Harris also called pro-life lawmakers "extremist so-called leaders."

I've said this numerous times, but it really makes me chuckle when the left calls lawmakers who advocate for saving lives the "extremists." That makes no sense.
Yes, the woman who wants an anti-abortion surveillance state doesn't think wanting one is "extreme."
Mandelburg lashed out at Harris again in an Oct. 26 post:
I really didn't know that there were more than one version of the Holy Bible. One that supports the slaughter of the unborn and one that doesn't … oh wait.

Yet again, Vice President Kamala Harris thinks that the Christian faith supports abortion. She has proven that point over and over and over again.

Most recently, on October 25, she was at the University of New Mexico in Albuquerque talked with NM Governor Michelle Lujan Grisham and a local doctor, Dr. Eve Espey. The trio spoke on protecting the right to murder innocent children in New Mexico and beyond.

Harris reiterated her regular talking points in order to help justify her enthusiastic support for abortion.

"One does not have to give up their faith or deeply held beliefs, one does not have to abandon one's faith or deeply held beliefs to agree, the government should not be making this decision for her," VP Harris told the audience.

Ah, that's one of her favorites.
Mandelburg further lectured Harris:
The Christian faith recognizes the intrinsic value of life at the moment of conception. It's a grave evil to murder an innocent child, yet Harris seems to think her Christian faith doesn't need to be neglected in order to support abortion. Harris is just trying to justify her claims by pretending, or convincing herself and others that the Bible supports abortion.

I've read the whole thing, and I can assure you, it doesn't.

It's blasphemy against God for Harris to be manipulating the words of the Holy Bible to help push an anti-life agenda, but given her and her accomplices track record, it's not surprising.
Mandelburg is clearly unable to tolerate opinions that differ from her own. But then, that narrow-minded intolerance is what makes her an ideal MRC employee.
Posted by Terry K. at 9:52 PM EST