Newsmax Sycophants Hype Trump's 2024 Announcement
Topic: Newsmax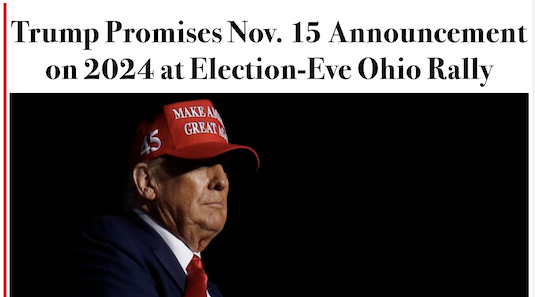 As you'd expect from the pro-Trump sycophants at Newsmax, Donald Trump's announcement of his 2024 presidential campaign got all the pomp it could muster up -- indeed, it was dutifully reporting Trump's teases way back in October. A Nov. 4 article by Nicole Wells teased that Trump "is tentatively planning to announce the launch of a 2024 presidential campaign on Nov. 14." Eric Mack dutifully reported another tease on Nov. 6.
A Nov. 7 article by Mack teased the announcement of the annoucement at a Trump rally that was ostensibly for Ohio Republican Senate candidate J.D. Vance, noting that Trump "also announced a Nov. 15 Mar-a-Lago announcement on his hotly anticipated plans to run for the presidency once more in 2024." That was followed by a Nov. 10 article by Michsel Katz noting that a "senior Trump adviser" confirmed the announcement, followed by Nov. 11 wire service article teasing the announcement, while a paywalled article that day claimed to list the pros and cons of the announcment.There was even a Nov. 11 article by Theodore Bunker noting that Trump's "longtime adviser Jason Miller" said Trump would announce.
For the actual announcement on Nov. 15, Mack again served as stenographer (while also making sure to point out that the announcement "aired live on Newsmax"):
Former President Donald Trump, turning a deaf ear to establishment calls to hold off and Democrat efforts to stop him, officially declared his 2024 presidential campaign Tuesday night.

"In order to make America great and glorious again, I am tonight announcing my candidacy for president of the United States," Trump told his crowd at Mar-a-Lago, in Palm Beach, Florida, at 9:22 p.m. ET. The address, heavily touted for days, aired live on Newsmax.

"This will not be my campaign. This will be our campaign all together, because the only force strong enough to defeat the massive corruption we are up against is you the American people. It's true. The American people, the greatest people on Earth. We love them all. And we love both sides. We're going to bring people together. We're going to unify. ..."

It wasn't until several more paragraphs of stenography that Mack got around to mentioning concerns over his announcement:

Trump had been beating back recent calls for him to hold off his declaration, calling out establishment efforts to prop up primary challenges, including by longtime ally Gov. Ron DeSantis.

DeSantis, who won reelection by a huge margin in the midterms, is being hailed by some political observers as a leading candidate for the 2024 GOP presidential nomination, with some recent polling now showing him ahead of Trump. Other polls continue to characterize Trump as the Republican to beat.

Meanwhile, Trump is still facing Democrat resistance, including continued attempts to frame him for the Jan. 6 storming of the Capitol. He is also facing the investigation under the Presidential Records Act that led to the raid on his private residence at Mar-a-Lago in August.
There was a video report, of course, by Leonardo Feldman. Mack then found a greater sycophant than himself to praise Trump's announcement:
Despite "some reservations" about former President Donald Trump making his official declaration Tuesday night, former Arkansas GOP Gov. Mike Huckabee said this "pitch perfect speech" can make Trump once again "unbeatable."

"I think he's going to be unbeatable, if he stays in this message," Huckabee told Newsmax host Rob Schmitt moments after the speech concluded.

[...]

Huckabee did admit Trump has a "bedside manner" that does not sit well with everyone.

"One thing I always want to say about Donald Trump: Look, if this is a hospital, and there are a lot of doctors in it, he's got the worst bedside matter of anybody in the entire hospital — no doubt about that — but he's the best surgeon in that hospital," Huckabee concluded.

"Nobody can do the operation better than he can."
Newsmax had previously reported on Huckabee's desire for Trump to wait on his announcement.
A Nov. 16 article by Luca Cacciatore grumbled that "Minutes after former President Donald Trump revealed his intentions to run for office again in 2024, Democrats from Sen. Raphael Warnock's campaign to the White House jumped at the opportunity to raise cash." He went on to huff that "The move comes despite Biden being more unpopular than both Donald Trump and Barack Obama were at this stage of their presidencies — even with a less-than-devastating midterm performance."
Mack compiled a list of even more Trump sycophants for a Nov. 17 article:
Rep. Ronny Jackson, R-Texas, former White House doctor for President Barack Obama and President Donald Trump, has officially endorsed Trump for the 2024 presidential election.

"President Trump is the greatest president I've ever seen," Jackson posted on Truth Social, as hailed by Trump in a recent Save America PAC statement. "I'm on his side 100%! President Trump has my complete and total endorsement!!!"

Jackson's endorsement was among a number of the earliest endorsers for Trump's 2024 campaign, which he made official in a Tuesday night Mar-a-Lago address, which aired live on Newsmax.

Reps. Elise Stefanik, R-N.Y., and Marjorie Taylor Greene, R-Ga., made their endorsements before Trump even officially declared his intention to run.

Trump endorsed hundreds of midterms candidates who he now will call on to return the favor sooner than later as he gets ahead of what could become a growing 2024 GOP presidential primary field.
A Nov. 17 article by the apparently uniroinically named Charlie McCarthy complained that "Rupert Murdoch-owned media outlets, including Fox News, have ramped up attacks on Donald Trump after the former president declared his run to reclaim the nation's top office." Newsmax's biggest Trump sycophant, Dick Morris, joined in taking a shot at the competition in a Nov. 17 TV appearance by critizing Rupert Murdoch's empire for not being a Trump cheerleader like him and favoring Ron DeSantis instead:
Dick Morris, a bestselling author, TV host, and former adviser to Presidents Bill Clinton and Donald Trump, said he doesn't buy the notion of "many" supposedly fair-minded media outlets bashing Trump's Tuesday announcement of seeking the White House again in 2024.

Morris said it's one guy largely pulling the messaging strings on the anti-Trump rhetoric: Media mogul and billionaire Rupert Murdoch, who owns the New York Post, The Wall Street Journal, and Fox News.

Murdoch still "resents that Trump wouldn't let him run the White House" from 2017-21, Morris told Newsmax Thursday afternoon, while appearing on " American Agenda" with hosts Bob Sellers and Katrina Szish.

[...]

Fox News is "working with the RINO anti-Trump establishment" on a daily basis. In that event, the coverage would be skewed, added Morris.

"It's not particularly significant [to hindering Trump's reelection campaign]," said Morris. "It's just another example of media manipulation."
Morris went on to hype that while, in the words of article writer Jay Clemons, "DeSantis might be faring well in one-on-one polls against Trump ... Trump still owns a significant advantage of 14 percentage points over all comers" with registered voters.
Posted by Terry K. at 12:21 PM EST
Updated: Tuesday, December 27, 2022 1:22 PM EST