MRC Cheers Musk Restoring Twitter Accounts of Trump, Transphobes
Topic: Media Research Center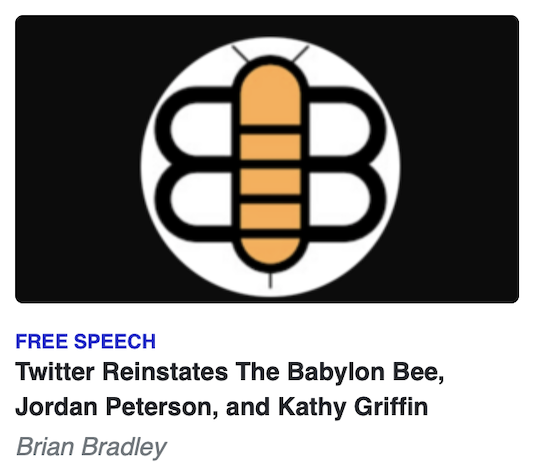 The Media Research Center saw its Trump-fluffing and Musk-fluffing campaigns merge when Musk restored Donald Trump's Twitter account, which had been suspended after repeated violations of the site's terms of service, which including using it to help incite the Capitol riot. Autumn Johnson was in full gush mode in a Nov. 19 post:
On Saturday, Twitter boss Elon Musk reinstated former President Donald J. Trump's Twitter account after 52 percent of voters in a Twitter poll he created voted that the former president should come back. Over 15 million users voted in the poll.

"The people have spoken. Trump will be reinstated," Musk tweeted. "Vox Populi, Vox Dei."

Last January, Twitter permanently suspended Trump from the platform following the January 6 riots.

"After close review of recent Tweets from the @realDonaldTrump account and the context around them we have permanently suspended the account due to the risk of further incitement of violence," Twitter said at the time.

Musk's decision to reinstate Trump's account is part of his plan to dedicate the platform to free speech.

In response to concerns about Twitter's unfair censorship of conservatives, he announced that a "content moderation council" with "widely diverse viewpoints" would be formed to address concerns.
Johnson didn't explain why she gave Musk a pass for reinstating Trump before forming that "content moderation council." Nor did she mention that Musk himself has admitted that bots and trolls heavily populate his polls, which severely undercut his "vox populi" claim.
Kevin Tober whined in a Nov. 20 post that Musk's decision was being criticized:
When the news broke late Saturday night that Twitter CEO Elon Musk announced that he reinstated former President Trump's Twitter account, MSNBC predictably lashed out over the decision and played the race card, apparently unaware that Musk is South African.

On Saturday night, during MSNBC's low-rated show Ayman, hosted by Ayman Mohyeldin, the show quickly turned sour when the Trump Twitter news broke. Turning to left-wing Daily Beast writer Danielle Moodie, Mohyeldin asked for her "thoughts on Trump reinstated back to Twitter with Elon Musk? Joking aside, how do you see this? You can joke if you want. I'm just saying I'm giving it to, you, however, you want to take it."

Moodie was in a mood during her appearance and cried "I am absolutely disgusted. But what else do we expect from very white privileged cis hetero men protecting each other? Because we always mistake wealth and inheritance for genius."
Tober didn't explain what Musk being South African had to do with anything -- which is probably just as well, given that Musk benefited from growing up as part of the privileged white elite in apartheid-era South Africa.
The day before Musk restored Trump's account, he restored the accounts of two other right-wingers, the "satire" site Babylon Bee (which the MRC loves to defend) and activist Jordan Peterson -- both of which had been suspended for spewing transphobia. Brian Bradley was assigned the cheerleading duties for that one:
Twitter reinstated the accounts of The Babylon Bee, comedian Kathy Griffin and psychologist Jordan Peterson after their accounts had previously been banned from the platform, Twitter owner Elon Musk announced Friday afternoon.

"Kathie Griffin, Jorden Peterson & Babylon Bee have been reinstated," he tweeted. "Trump decision has not yet been made."

Twitter locked The Babylon Bee account in March when the satire site named epartment of Health and Human Services Assistant Health Secretary Rachel Levine The Bee's "Man of the Year."

"We're back," The Bee tweeted at about 1:30 p.m. ET on Friday. "Let that sink in."

Twitter suspended Peterson, now a Daily Wire+ host and author of 12 Rules for Life, in June after he tweeted: "Remember when pride was a sin? And Ellen Page just had her breasts removed by a criminal physician."

Page no longer goes by the name "Ellen," but goes by "Elliot" now. Users speculated that Twitter suspended Peterson because of his use of the actor's former name instead of the latter name.

Peterson said in an interview with The Daily Wire that the platform at the time said he must delete the tweet to regain access to his Twitter account.
Bradley surprisingly hinted that Griffin was suspended unfairly: "Twitter suspended Griffin earlier this month supposedly for impersonating Musk using a verified parody account not labled as parody." He didn't mention, however, that Musk was the person behind her suspension -- can't interfere with the pro-Musk narrative, after all.
That narrative was shaken, however, when Johnson realized that Musk's Twitter content policies would be the same as pre-Musk in a Nov. 20 post:
Elon Musk says Twitter's new speech policy is "freedom of speech," not "freedom of reach."

Musk made the announcement Friday on his Twitter account.

"New Twitter policy is freedom of speech, but not freedom of reach," he tweeted. "Negative/hate tweets will be max deboosted & demonetized, so no ads or other revenue to Twitter. You won't find the tweet unless you specifically seek it out, which is no different from rest of Internet."

While Musk was asked to define "hate speech," he did not clarify how he personally defines the vague term. Technology experts and legal scholars have found it notoriously difficult to do so.

Musk added that the new policy would only apply to single tweets and "not the whole account."

[...]

It should be noted that Musk's comments unfortunately seem to mirror views ultimately expressed by former Twitter CEO Jack Dorsey.
So concerned was Johnson at this turn of events that she added contact info at the end of her post: "Contact Twitter: (415) 222-9670 or mail to 1355 Market Street Suite 900 and demand that Big Tech be held to account to mirror the First Amendment while providing transparency, clarity on 'hate speech' and equal footing for conservatives."
Johnson got over that quickly, however, and the next day she was back to dishonestly portraying content moderation as "censorship":
Thierry Breton, the European Union's internal market commissioner, said the bloc will require Elon Musk to add moderators in Europe to censor content.

Bloomberg News reported Friday that Breton criticized Musk's decision to lay off moderators as well as his new pro-free speech changes to the platform. Breton said the government must "have control" over the content users post on the platform.

"He is in the process of reducing a certain number of moderators, but he will have to increase them in Europe," Breton said, according to Bloomberg. "He will have to open his algorithms. We will have control, we will have access, people will no longer be able to say rubbish."

Notably, the EU as a whole has favored more content moderation to prevent the spread of so-called "misinformation."
Notably, Johnson did not reference her post from the day before in which Musk effectively endorsed this approach by emphasizing "freedom of speech, but not freedom of reach." That too would have interfered with the Musk-fluffing narrative.
Posted by Terry K. at 9:14 PM EST