MRC Can't Stop Its Musk-Fluffing Campaign
Topic: Media Research Center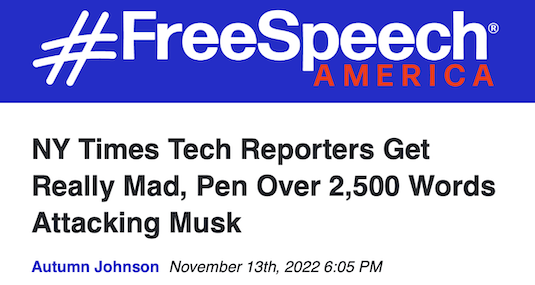 Ever since Elon Musk showed an interest in buying Twitter, the Media Research Center has effectively been his servile handmaiden, gushing over everything he does and defending him against all criticism -- even criticism the MRC itself leveled at him pre-Twitter. One of his chief defenders and stenographers, Autumn Johnson, kept up the narrative by attacking more critics in a Nov. 13 post:
The New York Times assembled a team of four technology reporters to pen a bizarre hit piece over the weekend targeting Tesla CEO Elon Musk and his apparently nauseating takeover of Twitter.

At least four Times writers contributed to an article of over 2,500 words slamming Musk's recent changes at Twitter, one of which includes his promise that the platform would no longer unfairly censor conservatives.

It appeared on The Times's website Friday under the headline "Two Weeks of Chaos: Inside Elon Musk's Takeover of Twitter."

The article accused Musk of cruelly treating employees during the layoff process:
Johnson identified nothing inaccurate in the Times article. Instead, she moved into her usual hero-worship mode:
Much of the criticism Musk has received stems from his promise to promote free speech online and ensure that content moderation is fairly applied when needed.

Last week, NewsBusters reported that Musk reaffirmed his commitment to free speech while not magnifying hate speech in an online meeting with investors.

"We have to be tolerant of views we don't agree with, but those views don't need to be amplified," he said.
Again, Johnson was silent about the fact that Musk has suspended Twitter accounts that made fun of him, which contradicts his colerance plea.
Catherine Salgado ignored that too, instead proudly proclaiming Musk as the chief mocker in a Nov. 14 post and that others need a sense of humor:
Sen. Ed Markey (D-MA) might need to develop a sense of humor after Twitter owner Elon Musk mocked him on his newly-acquired platform.

The Democrat [sic] Senator threatened Musk's companies with a congressional investigation after a reporter got a fake account of the senator verified on Musk's new blue check Twitter program.

Markey wrote a letter. That drew a jab from Musk that the senator's real account was already like a parody.

Rather than admit that Musk's blue-check pay scheme was a failiure, Salgado stayed in PR mode, declaring that "It turns out Markey is angry that anyone, not just high-profile leftists, can now be verified on Twitter for only $8 a month."
Gabriela Pariseau cheered in a Nov. 15 post that climate misinformation -- which she dishonestly framed as "climate discussion" -- was spreading on Twitter:
Oh, the horrors of climate denialists having actual free speech online!

So say the climate doomsday propagandists.

French wire service Agence France-Presse (AFP) wrote a piece complaining about an alleged "surge in misinformation" on Twitter since Elon Musk became the platform's owner. AFP pointed to the trending #ClimateScam which was the first search suggestion when a user searched the word "climate" on Tuesday morning.

But the outlet's liberty-bashing incidentally highlighted Musk's commitment to allowing free speech on Twitter, including speech he might not fully agree with.

AFP asserted that the top tag on Twitter "#ClimateScam" is evidence of "a rise in misinformation following Elon Musk's takeover of the platform." But the outlet made no mention of any specific tweets and made no effort to refute any specific examples of misinformation that are allegedly running rampant on the platform.

Instead, the outlet cited unnamed "analysts," "campaigners," "researchers," a report by the megadonor George Soros-funded Institute for Strategic Dialogue, and far-left group Climate Action Against Disinformation (CAAD).

AFP neglected to mention that Musk has repeatedly shown he cares about the environment and that environmental protection is one of his key focus areas.
Pariseau didn't how CAAD's exposure of climate disinformation is somehow a "far-left" endeavor. Instead, there was even more Musk-gushing: "Musk's nuanced ideas on the environment and energy show the need for open and robust debate and they appear to reflect the wide array of ideas the 'Chief Twit' allows on Twitter."
A Nov. 16 post by Johnson noted that CBS News had suspended posting on Twitter due to the "uncertainty around Twitter" (though she updated to note that CBS resumed posting two days later), going on to whine that "leftist advocacy group Accountable Tech and other progressive groups demanded that corporations pull their ads from Twitter." And a Nov. 20 post by Mark Finkelstein complained MSNBC's Yasmin Vossoughian argued that Musk's reign of chaos "is kind of the beginning of the end of Twitter," going on to huff: "In a no-good-deed-goes-unpunished moment, Vossoughian was very unimpressed by Musk's decision not to allow Alex Jones to return to Twitter." Of course, that's actually just an extremely low bar, given that even Finkelstein is demanding that Jones' account be restored.
Another Nov. 20 post, by Johnson, complained that "several Senate Democrats wrote a letter asking the Federal Trade Commission to investigate new Twitter CEO Elon Musk's major changes at the platform," adding the pro-Musk spin that the senators are claiming that "Musk's pro-free speech changes, one of which includes ending unfair censorship, are 'alarming'."
Posted by Terry K. at 7:11 PM EST