WND Brings Back Pro-Trump Fabulist To Bash Democrats
Topic: WorldNetDaily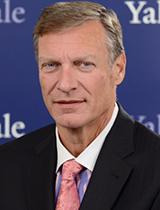 You might remember Theodore Roosevelt Malloch as a supposed descendant of Theodore Roosevelt who wrote a lot of Donald Trump fanfiction for WorldNetDaily before the 2016 election with enough chutzpah to beg Trump to name him vice president ... and then kinda disappeared after it was revealed that he had exaggerated his life in his WND-published autobiography, which may have extended to his claiming he was Trump's preferred pick for ambassador to the European Union (he wasn't). He has also been accused of falsely overstating his assets to obtain millions of dollars in bank loans (which he later filed for bankruptcy in an attempt to get out of paying back.He did pop up once more in 2018, when he was detained and questioned by the FBI and subpoenaed by Robert Mueller for his investigation.
Well, Malloch has popped up again at WND, in a June 8 article by Bob Unruh that rehashes a column Malloch wrote for another right-wing website:
Accusations of racism are thrown about these days like confetti at a Super Bowl parade. Math is racist, religion is racist, elections are racist, kids are racist and more.

But Theodore Roosevelt Malloch, a scholar and diplomat who now heads the The Roosevelt Group, has explained in a column at American Greatness the force in the country that has done more to prosper racism than any other:

The Democrat Party.
Actually, Malloch used "Democratic Party"; Unruh is injecting bias by using a derogatory, intentionally false right-wing term instead of accurately reporting what Malloch wrote.
The rest of Unruh's article is transcribing what Malloch said about the history of the Democratic Party, as if the party of the 1830s, 1860s or even the 1950s is exactly the same as the Democratic Party of today. He also wrote:
"The Democratic Party was founded in 1828 by the backers of General Andrew Jackson, a Southerner and ardent racist who owned slaves and thought nothing wrong with the practice. Jackson, who became the 8th president, earned his fortune in a cotton industry based entirely on slaveholding," he explained. "'Old Hickory' as his troops called him, was one tough son of a b----. Compromise was not in his lexicon. Aside from his attitudinal superiority over blacks, Jackson is also famous for the 'Trail of Tears' which forced Native Americans off their ancestral lands. These are the seminal beginning roots of the Democratic Party tradition in America."
Malloch didn't mention that Trump is such an admirer of Jackson he had Jackson's portrait installed in the Oval Office.
Posted by Terry K. at 2:07 AM EDT