WND Publishes Fake News About 'Suitcase' Ballots In Georgia
Topic: WorldNetDaily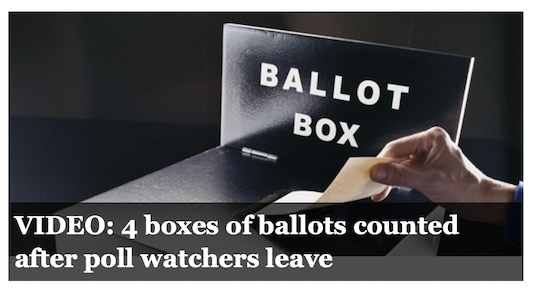 As part of its conspiracy-mongering about the presidential election, an anonymous Dec. 4 WorldNetDaily article claimed:
State senators in Georgia on Thursday were handed a hot political potato: a video showing election workers being sent home before supervisors pulled out hidden boxes of ballots from under a table and counted them.

The video, posted on Twitter by the Trump campaign, was introduced at a hearing held by the Georgia State Senate on allegations of vote fraud.

[...]

A Twitter user who posted the video said it shows a "lady telling Republican watchers (and everyone) to leave for the night," but then four individuals remain.
Just one problem: the video is not what WND claims it is. Numerous fact-checkers have debunked right-wing claims about the video; in fact, as FactCheck.org summarized, the ballots in question were opened and prepared for counting earlier in the night in full view of observers, and affidavits from Republican field organizers discredited the claim that GOP poll watchers were directly told to leave. Georgia election officials also debunked claims made about the video by WND and others, pointing out that the video has been investigated and shows normal ballot processing.
A few days later, WND stole a commentary from the right-wing site The Federalist loudly insisting that the fact-checks aren't real because "relying solely and uncritically on government officials' claims" was something fact-checkers shouldn't have done.
Presenting debunked information as factual is not making WND look good (just as it never has).
Posted by Terry K. at 12:41 AM EST