The MRC's Year Of Heathering The Lincoln Project For Criticizing Trump
Topic: Media Research Center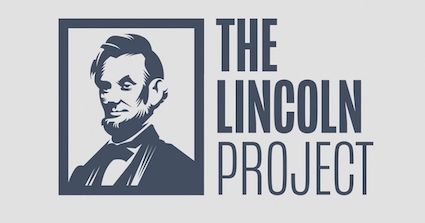 The Media Research Center Heathered a lot of conservartives this year for committing the offense of criticizing Donald Trump or being less than totally subservient to him. But its biggest Heathering target by far was the Lincoln Project. a group of conservatives appalled by Trump who worked to defeat him in 2020.
From the start, the MRC labored to deny the conservative backgrounds of the project's founders. The Heathering began in December 2019, when Tim Graham pedantically complained that a New York Times op-ed by the project's leaders, headlined "quot;We Are Republicans, And We Want Trump Defeated," was inaccurate because three of the four signatories "ceremoniously left the Republican fold over Trump." In January, Bill D'Agostino whined that the project wasn't a "conservative group," just "a PAC created by frequent CNN guest George Conway, and populated by formerly Republican never-Trumpers like Rick Wilson and Steve Schmidt. A few days later, Joseph Vazquez put "Republican political strategist" in scare quotes when describing Wilson.
In May, Curtis Houck listed the Lincoln Project among "grifting organizations," while Mark Finkelstein sneered that it was nothing more than "an assemblage of "Republican" Trump haters including George Conway, Steve Schmidt, and Rick Wilson. Joseph Vazquez complained that an heiress to the Walmart fortune donated money to the group after it made "a disgusting anti-Trump coronavirus ad," going on to huff further about "The Lincoln Project's anti-Trump-obsessed cause."
Gabriel Hays tried to deny the conservative pedigree of the project's supporters again an a whiny rant: "Ah yes, catering to the people who hate every lofty norm and principle you pride yourself on holding over the president just so you can revel in a collective "F Trump!" That's called being a principled conservative right there. ... Steve Schmidt slanders conservatives on MSNBC daily, and we all know how cuckoo Mr. Conway is. Just imagine handing your country over to the pro-infanticide, pro-gun control, and God-hating left and then smiling at your 'prominent Republican' self in the mirror. If Trump is destroying America, then what the hell are you doing?"
In July, Brad Wilmouth huffed that one TV host wasn't "accurately describing the Lincoln Project as a group of disaffected former Republicans who are anti-Trump," and P.J. Gladnick cheered that Wilson was attacked as a "grifter" by, of all people, Stephen Colbert's parody cartoon news show.The attacks cranked up in another post by Vazquez, retaliating for a "gross anti-Trump ad" on Trump and Russia by highlilghting a right-wing media story on the project leaders' "own checkered dealings with Russia and the tax man." Kyle Drennen smeared another project member as a "grifter."
Nicholas Fondacaro used the "grifter" smear in an August post, so desperate to attack that he bizarrely cheered how "Twitter sleuths exposed how both Wilson and his wife proudly displayed a Confederate-theme cooler on their Instagram pages." Graham whined that "The Democratic rag known as The Washington Post gushed all over the Biden-endorsing Never Trumpers at the Lincoln Project on the front of Monday's Style section," going on to yet again deny the group's conservative bona fides: "The piece is salted with quotes from 'conservatives' and 'lifelong Republicans' who are campaigning for a President Biden. Are these really 'Republicans' any more? Are they bringing 'conservatives and progressives' together? No, they're not."
Randy Hall seemed pleased that "The Trump-hating ex-Republicans at the Lincoln Project posted a tweet that was so blatantly inaccurate, even Trump-bashing reporters ruled they were wrong on Twitter" -- not that the MRC holds its fellow pro-Trump conservatives, or even itself, to that same level of scrutiny. Alex Christy feigned outrage over Wilson's "deranged" statement that Trump was "narrowcast to white non-college voters with all the scare tactics that are involved in that, all the crazy, you know the, Antifa-anarchist-communists are coming to get you gay Sharia married," further complaining that Wilson "likes to portray himself as a conservative defending conservatism and the republic from President Trump, but he clearly just hates many of his fellow Americans." For Duncan Schroeder, the Lincoln Project became that which must not be named in a September post, describing Wilson only as a "former Republican strategist."
As the election neared, Finkelstein returned to complain that MSNBC "aired a kooky Lincoln Project commercial (gratis?) that explicitly compared Biden to Abraham Lincoln, and compared Trump's supposed refusal to concede power to.... a Lincoln assassination plot?" The ad noted that if Trump lost re-election, "we may face a crisis of similar proportion" to the 1861 assassination attempt on Lincoln prior to his taking office: "an outlaw president defying the will of the people" -- which is exactly what has happened. Finkelstein then did some electioneering which we didn't think was permitted under the MRC's nonprofit tax status: "To the contrary, remember the Buckley Rule: support the most conservative candidate who is electable. When it comes to who is more conservative between President Trump, and a Joe Biden who has bragged that he'd be the most "progressive" president ever. And don't even get us started on president-in-waiting Kamala Harris, the most liberal member of the Senate!"
The MRC's attacks met with so little effect that Jorge Bonilla was reduced to attacking an assistant to the president of the news division at Univsion for retweeting Lincoln Project donation appeals. And on Oct. 8, Vazquez huffed, "The insufferable NeverTrump Lincoln Project, known for its disgusting attack ads against President Donald Trump is set to become a media business." After the Lincoln Project tweeted out the names, photos and email addresses of attorneys who were working to help promote Trump's dubious election fraud claims, Alexander Hall celebrated how "Twitter finally took down a post from The Lincoln Project and reportedly restricted the organization's account." Weirdly, Hall never claimed the project was being "censored," like he does when Twitter cracks down on Trump and other right-wingers who violate Twitter terms of service.
Finally, Vazquez used a Nov. 16 post to declare that "The hate-filled Lincoln Project failed to make any real impact on the election" -- except, um, for the primary goal of defeating Trump. Vazquez invoked right-wing media critic Joe Concha to redefine failure, under the headline "The Hill's Joe Concha WRECKS Failed NeverTrump Lincoln Project."
That's some epic, extended Heathering there, guys.
Posted by Terry K. at 9:50 PM EST
Updated: Thursday, December 10, 2020 9:11 AM EST