CNS Still Trying To Downplay Coronavirus
Topic: CNSNews.com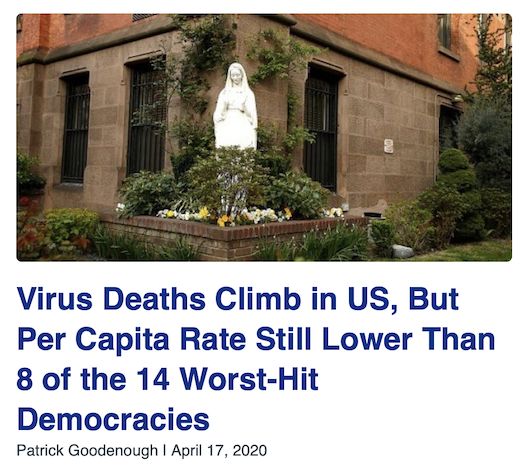 We've documented how CNSNews.com worked to downplay the severity of the coronavirus pandemic in its early days. Even though it's been reporting other things about it, downplaying its severity is still a core CNS function.
Patrick Goodenough wrote in a March 20 article: "A study by infectious disease experts at the University of Hong Kong and Harvard University found that the probability of dying after developing COVID-19 symptoms is about 1.4 percent – significantly lower than the 3.4 percent estimate cited by the World Health Organization in early March. The report comes as the number of deaths worldwide attributed to the novel coronavirus passed the 10,000 mark overnight."
Goodenough returned to downplay death rates in the U.S. in a March 30 article headlined "COVID-19 Deaths: Italy, 1 in 5,789 People; United States, 1 in 157,499." He began by complaining that "critics are trashing President Trump over the fact the U.S. is now reporting more confirmed COVID-19 cases than any other country,"then declared: "But numbers of confirmed cases are a function of testing. As testing in the U.S. has ramped up, it was only a matter of time before that testing would detect sizeable numbers of cases moving through the American population."
Of course, this was very early in the pandemic, eamning those number were obsolete almost immediately.
Goodenough again touted lower death estimates in an April 1 article: "Another academic study is estimating a significantly lower COVID-19 death rate than the 3.4 percent approximation cited by the World Health Organization in early March – an estimate which President Trump was roundly criticized for questioning."
Goodenough went on to complain that "critics pounced" on Trump when he called an earlier, higher death estimate a "false number," suggesting that Trump was correct to do so -- something totally on-brand for CNS.
Susan Jones did so in an April 6 article by using it to temper bad news:
U.S. Surgeon General Jerome Adams warned on Sunday that this will be "the hardest and the saddest week" of our lives, as the death toll from coronavirus continues to climb above the current 9,600-plus.

"This is going to be our Pearl Harbor moment, our 9/11 moment, only it's not going to be localized. It's going to be happening all over the country. And I want America to understand that," Adams told "Fox News Sunday."

But then he offered some perspective on the death toll: "And more people will die, even in the worst projections, from cigarette smoking in this country than are going to die from coronavirus this year."

According to the Centers for Disease Control and Prevention, "Cigarette smoking is responsible for more than 480,000 deaths per year in the United States, including more than 41,000 deaths resulting from secondhand smoke exposure. This is about one in five deaths annually, or 1,300 deaths every day."
The same day, Goodenough contributed another body-count article written to make the U.S. (and, thus Trump) look good:
Of the 12 countries reporting the highest numbers of confirmed cases of the coronavirus disease COVID-19, the United States has the third-lowest fatality rate.

As of early Monday, 337,620 confirmed cases had been reported in the U.S., and a total of 9,616 deaths – a fatality rate of 2.84 percent.

That compares to a global fatality rate of 5.44 percent (a total of 1,275,542 confirmed cases worldwide, of which 69,498 have resulted in death).
Goodenough spun those death numbers further in an April 17 article:
Despite the grim and still-climbing COVID-19 death toll in the United States, of the 14 Western countries reporting the highest numbers of fatalities linked to the coronavirus disease, the U.S. remains on the lower end of the scale of death rates in proportion to the national population.

The U.S. on Thursday recorded the biggest single-day number of deaths – 4,591 in a 24-hour period ending at 8 PM Eastern Time – an 84 percent increase from the previous day's then-record of 2,494, according to the real-time database of the Center for Systems Science and Engineering at Johns Hopkins University.
A pandemic is arguably not the best subject to be conducting horse-race coverage on. But that's how CNS rolls.
Posted by Terry K. at 12:36 AM EDT
Updated: Thursday, April 30, 2020 9:41 PM EDT