MRC Serves Up Evidence-Free Hypocrisy
Topic: Media Research Center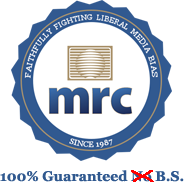 A Jan. 30 Media Research Center post by Joseph Vazquez complained:
MSNBC's Joe Scarborough decided it was a good idea to tout an attack ad against Sen. Martha McSally (R-AZ) made by the anti-Trump group The Lincoln Project just days later.

[...]

MSNBC's The Morning Joe ran a Jan. 29 segment showing the entirety of The Lincoln Project's hyperbolic attack ad "Martha McSally Is A Trump Hack." Scarborough used the clip segment as an opportunity to go after McSally for calling out liberal reporters. Scarborough bloviated: "[McSally's] going to get on another corrupt president's good side by yelling at reporters who play it down the middle." [Emphasis added.]

Scarborough appeared to be referencing McSally calling CNN reporter Manu Raju a "liberal hack" Jan. 16, for asking her if "new evidence" would be allowed into the Senate trial of President Donald Trump's impeachment.

MSNBC tweeted out Scarborough's segment Jan. 29 touting the ad. The outlet's tweet stated, "A new ad from the conservative group Lincoln Project criticizes Sen. McSally for supporting President Trump and calling a reporter a 'liberal hack.'"

"Reporters who play it down the middle"? Really, Scarborough? Is he referencing the same liberal Manu Raju who pressed Democrats on CNN's The Situation Room May 8, asking: "If we are in a constitutional crisis, why not pursue impeachment; why are you resisting?" That was months before the Trump/Ukraine issue broke headlines (the lynchpin of the liberal media's impeachment crusade).
As we detailed when it first defended McSally's attack on Raju, the MRC has never proven that Raju is a "liberal hack." The example Vazquez provides is simply Raju asking a logical question of Democrats (he never identified exactly who was asked that question, since the MRC item he links to as evidence doesn't either, instead baselessly interprets the question as an example of "impatient reporters ... pushing for impeachment") who insisted that Trump has brought the national to what they called a "constitutional crisis." As much as Vazquez would like to think otherwise, it's a straightforward question that actually tried to pin down Democrats on what they believe.
Vazquez then engaged in another bit of hypocrisy:
An August 2019 study found that "CNN and MSNBC host Democratic Representatives and Senators seven times more frequently than their Republican counterparts." Specifically, across three randomly-selected weeks of coverage, CNN overwhelmingly favored giving interviews to Democratic members of Congress over Republican members by a four to one ratio (136 vs. 29). Talk about playing it "down the middle."
As we pointed out at the time the MRC issued this "study," the MRC is dishonestly trying to have it both ways -- it attacks CNN and MSNBC for not having on enough Republican members of Congress at the same time it praises Republican members of Congress for refusing to appear on CNN and MSNBC over their purported "liberal bias."
Vazquez and the MRC would never criticize Fox News for having enough Democrats on, nor would it praise Democrats for refusing to appear on the channel over its well-documented right-wing bias.
Posted by Terry K. at 11:28 AM EST
Updated: Sunday, February 16, 2020 2:39 PM EST