WND Still Sucking Up to Arpaio
Topic: WorldNetDaily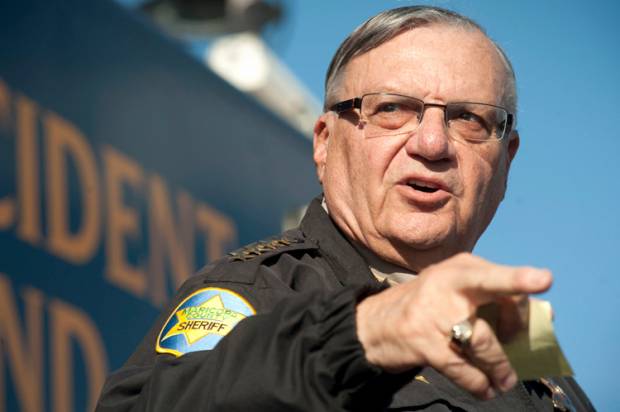 Bob Unruh sure makes it sound serious in his Jan. 5 WorldNetDaily article:
A federal judge deliberately broke the rules, potentially benefiting a relative financially, overlooking and discounting his wife's statements about his improper bias, and improperly communicated with other court officials about a case to punish "America's toughest sheriff," Joe Arpaio of Maricopa County, Arizona.

All this according to an appeal of G. Murray Snow's ruling by Arpaio, who retired from law enforcement at the first of this year.
Except one must remember that not only is Unruh a lazy reporter interested in reporting only the side of the story he agrees with -- on this case, Arpaio's -- but that WND has been carrying water and generally fluffing Arpaio for years. It was through WND's machinations that Arpaio sleazed the birther "cold case posse" into existence and put WND's Jerome Corsi on it, which helped ensure it could not be objective or taken seriously, though that wasn't the intent.
WND is apparently still so grateful for this that the bulk of Unruh's article is a rehash of birther stuff from the past month, even though it has nothing to do with the headline claim about the appeal, which involves a case regarding Arpaio's treatment of illegal immigrants. So concerned was Unruh about cramming all that irrelevant birther stuff in that he doesn't provide a link to the appeal he's writing about or even identify who Arpaio's lawyer is.
But anyway, let's take a look at the claims Unruh is dutifully transcribing from the Arpaio appeal. First up:
The case was filed in 2007 by Latinos who alleged the sheriff's office profiled them in traffic stops. Arpaio and others in the office eventually agreed to a civil penalty and a change in policy, but Snow wasn't satisfied, insisting on a court "monitor" for the office.

The appeal charges that Snow had improper communications with the court-ordered "monitor" for the sheriff's office, allowed his brother-in-law to potentially benefit from his rulings and glossed over the accusations that had come from his wife: that he was biased against Arpaio.

[...]

The appeal argues that Snow's off-the-record communications with a sheriff's office monitor alone is enough to require action in the case.
As the Phoenix New Times notes, Snow has been open about having one-on-one discussions with his monitor over the case, and he said in a 2015 hearing when Arpaio's lawyers last raised the issue that such conversations were necessary for the court to supervise the monitor, adding, "I don't know how to do that without having some communication with the monitor."
About the other claim, Unruh wrote:
The appeal also charges Snow had improper "ex parte" communications with the monitor about the sheriff's office and cites the fact that Snow's brother-in-law was an equity partner in the law firm representing the plaintiffs in the case.

"Judge Snow knew that his brother-in-law was a Covington [& Burling law firm] partner and understood that this relationship raised a serious recusal issue. Nevertheless, he chose not to inform the parties of the conflict. Instead, he privately decided to remain on the case and keep the conflict confidential," the appeal states.
But as the Phoenix New Times also points out, the issue of Snow's brother-in-law was adjudicated back in 2012 and Arpaio had no problem with it at the time:
Because Melendres [v. Arpaio] has been going on since 2007, only serious students of the case will recall an issue regarding Snow's brother-in-law, attorney Keith Teel, who is a partner at the Washington, D.C. branch of Covington & Burling, which took over representing the plaintiffs from the firm Steptoe & Johnson in 2010.

When his brother-in-law's firm entered the case, Snow has said that he considered whether this connection presented a conflict of interest.

Snow decided that since Teel doesn't work on Melendres or derive any real benefit from it, no recusal was required.

In 2012, the plaintiffs raised the issue of Teel, so Snow held a status conference, where he noted that "all parties argued that recusal in this matter was neither mandated nor appropriate."

Indeed, Arpaio was quoted in the Arizona Republic as stating that he had no problem with Snow as judge.

"I'm confident in this judge and the judicial system, and I'm not asking for the judge to be removed from this case," Arpaio said.
Unruh also rehashed an allegation from Arpaio's anonymous lawyers that Snow's wife said in a conversation with friends at a restaurant that "Judge Snow … was determined to conduct the litigation … in such a way as to ensure that Sheriff Joe Arpaio would not be re-elected as sheriff of Maricopa County, Arizona, in 2016." Unruh didn't mention that Arpaio had his attorneys do a secret investigation of the claim, which have also involved Maricopa County attorney or sheriff's resources.
Rather than being fair and balanced and report both sides based on information easily available online , Unruh takes the lazy way out by sending some WND flunkie to Snow's courthouse chambers with the full knowledge that no comment would be made "Armie Gonzalez, contacted by WND in Snow's courthouse chambers, told WND, 'We don't talk to reporters.'"
Perhaps the fact that WND reporters like Unruh are so ridiculously biased is one big reason WND is in deep financial trouble.
Posted by Terry K. at 3:35 PM EST