CNS Gotcha-Question Hurler Insists He's A 'Credentialed Member of the Press'
Topic: CNSNews.com

Meet Sam Dorman. He works for CNSNews.com. It's unclear exactly what he does -- he's not on the CNS staff list, and his archive page lacks a bio. We are guessing he's a reporter of some kind, but we're not sure.
Anyway, Dorman has been running around D.C. to various members of Congress this week to hurl a single gotcha question at them: "Is an unborn baby with a human heart and a human liver a human being?"
Of course, if all you're doing is running around asking important people a single gotcha question with the sole purpose of advancing a political cause, you're not really a reporter -- you're an activist. Given that Dorman has mostly been going targeting Democratic congressmembers with his gotcha question, one could also say he's making a political statement by doing so. Acting as a protester, if you will.
When the Washington Post did an article on Dorman hurling his gotcha question at House Democratic Leader Nancy Pelosi, the reporter, Kelsey Snell, referred to Dorman as an "anti-abortion protester."Snell didn't identify Dorman by name, noting that "It was unclear who the questioner was and for which news organization they worked."
For some reason, Dorman got all huffy about this. He tweeted at Snell: "I am not an anti abortion 'protestor'. I am a credentialed member of the press. Please correct your story."
But one does not have to have "credentials" to act as a journalist in America; he may be referring to what it takes to get into Pelosi's press conference, but the fact he has them means the standards are low enough that his insistence that he has them is a laughable attempt to pull rank.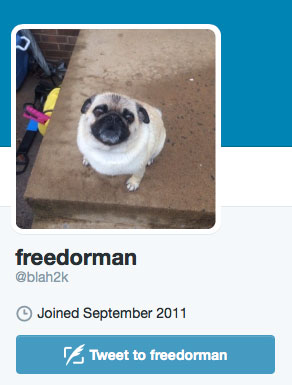 And, again, if you're just asking a single gotcha question to your ideological enemies, you are, in fact, a protester, not a reporter.
Another curious thing about Dorman" His Twitter account fails to identify his real name (it lists only @blah2k as the handle and "freedorman" as the name) or his employer; there' no description of the use at all. Thus, Dorman's tweet to Snell was a complete failure because she has no idea who's tweeting her.
Further, it appears from Snell's description of the Pelosi encounter and from the accompanying video that Dorman never announced who he was or who he was with before hurling his gotcha question at Pelosi. For a self-proclaimed "credential member of the press," Dorman sure doesn't want many people to know about it -- or maybe he just wants it known when he gets caught acting more like an ideological protester than a journalist.
Wait, wasn't it just yesterday that Dorman's boss, Media Research Center chief Brent Bozell, was ranting about media transparency? Yes, he was.
Bozell might have a little credibility on the issue if his own so-called reporters weren't so determined to hide their identities in public.
UPDATE: It took two MRC staffers -- Kristine Marsh and Katie Yoder -- to write about this for NewsBusters. They insist that Dorman is a "journalist" and a "reporter" despite him offering no proof of it, and they ignore the fact that Dorman apparently never identified himself before hurling his gotcha question at Pelosi. They also tout his tweet to Snell despite the fact there's nothing at Dorman's Twitter account that would identify him as Dorman or as a CNS employee.
Posted by Terry K. at 4:51 PM EDT
Updated: Thursday, October 1, 2015 6:43 PM EDT