WND's Corsi Latches Onto Another Crazy Birther Because Of Course He Would
Topic: WorldNetDaily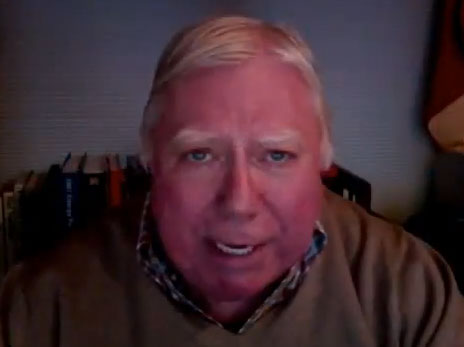 Apparently, WorldNetDaily sent Jerome Corsi to cover the upcoming trial of a conspiracy theorist who has a new twist on the birther conspiracies Corsi and WND love so much. Corsi writes in an April 20 WND article:
In a nearly empty courtroom at the Southwark Crown Court by the historic London Bridge, a hearing took place in a criminal case that not only has national security implications for the United Kingdom, but, curiously, is woven into the increasingly bizarre fabric of the controversy over Barack Obama's presidential eligibility.

When it came his time to speak, defendant Michael Shrimpton, a middle-aged London barrister by profession and self-proclaimed intelligence expert, politely issued to the judge a series of interrogatories that made clear he plans to launch a vigorous defense, representing himself before the court.
The criminal charges brought by the British government against Shrimpton under Section 51(2) of the Criminal Law Act 1977 accuse him of falsely notifying the British government to prepare for a terrorist nuclear attack on the 2012 Olympics in London that the British government claims had no basis in reality.

It's the same Michael Shrimpton who appears in a 2008 video that began re-circulating earlier this year on the Internet in which he claims to have been privy to shocking intelligence information on Obama's origins. Shrimpton contends to this day that the CIA collected DNA from then-Sen. Obama and a grandparent, establishing that Stanley Ann Dunham was not Obama's biological mother.

The video naturally has raised questions about Shrimpton's credibility and his qualifications to make such an extraordinary claim.
Surprisingly, even Corsi doesn't sound terribly convinced by Shrimpton's claims, which makes you wonder why he's even bothering with this when he has never written about the numerous birther debunkings and wouldn't even have to leave the country to do so. Yet Corsi devoted two more articles to Shrimpton.
Richard Bartholomew notes that "Shrimpton has also submitted a defence filing. It's a remarkable document, in which he lays out his credentials and expounds conspiracies on subjects ranging from the fate of Madeline McCann to the supposed Vatican origins of the Koran." Alrighty then.
Conspiracy theorists are known by the company they keep, so we not only have Corsi devoting three articles to Shrimpton, birther Christopher Monckton comes to Shrimpton's defense in an April 22 WND column that starts off with the grandiose insistence that he's so important that British Prime Minister David Cameron reads it:
No doubt Mr. Cameron reads my WND column avidly every week, as every well-informed and discriminating statesman does. So my advice, Dave, baby, is to watch out before you take on Mr. Shrimpton, who faces perhaps the least well-founded and certainly the most bizarre criminal charge of the century.

[...]

Her Majesty's Government (not yet a Shrimpton government) now finds itself in a pickle. If Mr. Shrimpton is of unsound mind, as they think he is or they would not have demanded a psychiatric examination, then the prosecution is bound to fail, at colossal cost to taxpayers.

If Mr. Shrimpton is sane, then HMG will find it has has bitten off more than it can chew. For Shrimpton will exercise every right of the defense to call secret intelligence evidence, such as reports from the network of nuclear-monitoring military satellites, and even a report of a supposed DNA test establishing that Mr. Obama was born in Kenya. Don't ask me what that has to do with a plot to blow up the London Olympics. Mr. Shrimpton may or may not have all his marbles in the right place, but the prosecution is plainly out to lunch.
So, in short: Yes, birtherism -- and censorship of any fact contradicting it -- is alive and well at WND.
Posted by Terry K. at 9:42 AM EDT