Farah vs. The Military
Topic: WorldNetDaily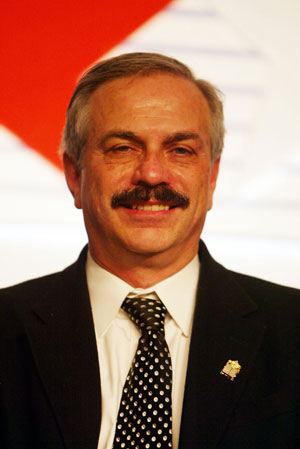 As far as we know, Joseph Farah has never served in the military. But that's not stopping him from declaring he knows what's best when it comes to guns on military bases in the wake of the latest Fort Hood shooting.
In his April 3 WorldNetDaily column, Farah rants:
How is this even possible? I keep hearing that this new slaughter will be a "wake-up call" to the U.S. military. About what? About the problem of post-traumatic stress disorder. Shouldn't it be a wake-up call to the insanity of disarming U.S. soldiers and other servicemen on military bases? Shouldn't that wake-up call have come in 2009 when Maj. Nidal Hasan, an Allahu akbar-shouting jihadi psychiatrist, killed 14, including an unborn baby, and wounded 29 others?

[...]

How was the shooter stopped at Fort Hood? He was confronted by ARMED military police and killed himself.

Notice the emphasis on the word "armed."

That's why we have a military – because armed force is sometimes the only way to stop violent armed aggression. So why are we disarming our military personnel on military bases? If we haven't gotten this wake-up call yet, we never will.

Gun-free zones encourage armed aggression. Off the base at Fort Hood, soldiers would be permitted to carry firearms. It's Texas! Everyone is armed. Notice no such slaughters are taking place elsewhere in the state – only in federally mandated gun-free zones.

Could there be any more obvious cause-and-effect evidence to consider?
Farah keeps it up in his April 6 column:
How many more need to die before even the gun-grabbers can see the destructive nature of such a policy – taking firearms out of the hands of men and women trained to use them to defend the country, leaving them defenseless on their own bases?

It should be obvious in an age of organized jihadist terrorism that undefended military bases would be a prime target. In fact, al-Qaida is known to have planned attacks on U.S. military bases. We have quite literally placed targets on the backs of every active-duty soldier stationed at home.

What kind of sense does this make?
Instead of a right-wing activist whose income depends on keeping up a sufficient level of outrage on his website, let's check out the viewpoint of someone who actually knows whereof he speaks and has a little more sense on the subject. Like, say, the numerous military veterans and base commanders who agree that more access to guns on military bases isn't needed.
Not good enough for Farah? How about a Medal of Honor recipient who points out that if everyone at Fort Hood had been armed the day of the shooting, "an enormous mass fratricide"?
We suspect that Farah's support of the military does not extend to experienced military men who disagree with his fringe views.
Posted by Terry K. at 12:40 AM EDT