WND's Kupelian: Obama Wants To Provoke Right-Wingers to Violence
Topic: WorldNetDaily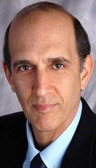 David Kupelian's obsessive hatred for President Obama is demonstrated yet again in a Jan. 12 WorldNetDaily column, in which he rants about Obama's purported strategy of crisis. He even goes on to suggest that Obama wants to provoke a right-wing act of violence in order to crack down on dissent:
A final warning: There is one perfect crisis for Obama and the entire progressive left, one event that would serve as the ultimate validation of all their delusions, fantasies and projections, something that would validate every prejudice, lie, unworkable idea and failed policy they espouse.

The one event that would be Barack Obama's grand-slam homerun would be if, in response to the ever-increasing outrages and provocations of the left, someone on "the right" becomes unhinged and goes violent in a big way.

That terrible event would constitute the perfect answer to all Obama's problems, the fulfillment of the left's fondest dreams. Haven't you wondered why the liberal media are always painting the tea party as racist without a shred of evidence, and are always hoping out loud that every new terror act or school shooting was perpetrated by a conservative? Didn't you see how the media fell over one another trying to portray – ridiculously and incorrectly – the Boston Marathon-bombing Tsarnaev brothers as right-wingers, and how ABC News reported – ridiculously and incorrectly – that the Aurora, Colo., movie theater mass shooter might be a tea-party member, and how the Department of Homeland Security painted pro-lifers, constitutionalists, libertarians, NRA members and returning war veterans as potential "right-wing extremists" and terrorists?

Why do they do this? Because, in their imaginations at least, violence on the right would validate their narrative. Worse, it would finally seem to justify and even necessitate Obama's violations of Americans' core liberties – gun control and confiscation, censorship of conservative news and talk radio as "hate speech," the growing police state, advanced surveillance state and so on. All would be seen as necessary restraints against all those conservative terrorists out there.

Of course, in the turmoil (and secret left-wing revelry) over a major "right-wing terror attack," forgotten and irrelevant would be the fact that you – and tens of millions like you – are being forced to obtain new and much more expensive health-care insurance. After all, we're under attack by right-wing extremists!

It's the perfect crisis.
It's as if Kupelian is begging for such an event to justify his and Joseph Farah's feelings of left-wing persecution -- and, of course, move people to send WND more money.
Posted by Terry K. at 12:36 AM EST