Psaki-Bashing And Doocy-Fluffing At The MRC, March 2022
The Media Research Center's Curtis Houck makes sure to reward biased right-wing Fox News employees like Peter Doocy for advancing anti-Biden talking points in the White House briefing room.
By Terry Krepel
Posted 6/3/2022
---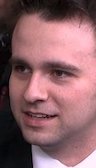 Curtis Houck
Curtis Houck's job at the Media Research Center is to bash Jen Psaki and act as a fawning cheerleader for Peter Doocy and other right-wing reporters -- no matter the optics of it.

In the days after the Russian invasion of Ukraine, Houck continued to push the anti-American attitudes he had started at the end of February by emphasizing Biden-bashing over unity. His lashing out at press secretary Jen Psaki during a March 1 Fox News appearance was typical:
Previewing President Biden's State of the Union address, White House press secretary Jen Psaki joined FNC's America's Newsroom on Tuesday and squared off against co-hosts Bill Hemmer and Dana Perino over President Biden's response to Russia's invasion of Ukraine and specifically the administration's refusal to budge on domestic oil and gas production and the timing of the CDC dropping its mask recommendations.

After opening with questions about whether the U.S. believes the violence from Russian dictator Vladimir Putin's military constitutes war crimes, Hemmer noted "[w]e buy Russia's oil and we don't need to" before asking whether Biden "will...make an appeal...based on some sort of shared sacrifice" that Americans "will consume less in order to help Ukrainian people and hurt Putin more."

Psaki refused to budge from her talking points, insisting Biden wants to "maximize the impact on President Putin, on the cronies and the oligarchs who have been benefiting from so much corruption in Russia" and "squeeze the financial system there," while also "minimizing the impact on the global markets and the American people."

Hemmer tried again, but Psaki stood pat despite conceding that "standing up for democracy versus autocracy is not without cost" and "any instability in the global oil marketplace is the result of the actions of President Putin."
Note that Houck did not accuse Hemmer and Perino of pushing talking points -- perhaps because he's singing from that very same script. He also didn't mention that he, Hemmer and Perino were setting up Psaki and Biden -- despite blaming Biden for not moving quickly enough to cut off oil exports from Russia, they would also blame Biden for the gas price spike once that oil was cut off. It's the right-wing script that Biden must always criticize him no matter what he does -- even if he does what right-wingers told him to do.
Houck did an ever-so-brief section at the end of his item touting how "reporters also came loaded for bear"at that day's press briefing, giving an seemingly MRC-mandated shout-out to Fox News reporter Jacqui Heinrich.
Houck gave Heinrich a more extensive gushing-over in his summary of the March 3 briefing for pushing that same talking point:
After having two days off for President Biden's State of the Union and trip to Wisconsin, Thursday brought the return of The Psaki Show and, with the Biden administration still refusing to ban the import of Russian oil, the questions were fierce.

They included a slew from Fox's Jacqui Heinrich with one presenting Psaki with the notion that the U.S. is "financing" Russia's "war" against Ukraine "as long as we're buying Russian oil," which would square with the fact that oil and gas sales make up 36 percent of its national budget.

Heinrich started, however, by poking holes in the administration's logic of refusing to expand domestic gas and oil production, but pushing for it in other areas to help drive down the price of goods:
Houck went on to sneer that "Psaki stuck to her previous answer, blaming oil companies for allegedly thousands of unused leases." He didn't disprove Psaki's statement, but instead he continued his Heinrich-fluffing:
Psaki engaged in a bait-and-switch, ignoring Heinrich's point about money coming into Russia from U.S. oil purchases and instead saying Russian oil only makes up "about ten percent of what we're importing" even though cutting it off "would...raise prices."

To her credit, Heinrich reached that point thanks to Psaki stonewalling from past questions, starting with two from the AP's Colleen Long about Putin benefitting from higher prices so long as a ban remains off.
Houck's summary of the March 7 briefing was devoted to reporters -- with special attention given to right-wingers Steven Nelson of the New York Post and (credibly accused sexual harasser) James Rosen of Newsmax -- complaining that reporters didn't get to ask enough questions. After noting that White House Correspondents Association president and CBS News Radio correspondent Steven Portnoy pointed out that Psaki "made a conscious decision to try to honor the long-standing traditions of the room" since "the people before [her] [had] a different view." Houck huffed in response: "This was a swipe at press secretaries for then-President Trump." Of course, Houck thought it was cool that those press secretaries wouldn't take questions and acted like jerks toward reporters.
Houck also made sure to get in his "Doocy Boom" fluffing from that briefing in a separate post:
Prior to Monday's explosive post-briefing kerfuffle (which NewsBusters was able to audio from), the regularly scheduled Psaki Show featured the return of Doocy Time as the Fox News correspondent battled the press secretary over who or what's to blame for high gas prices and why there's been, at best, an apprehension to increased domestic oil and gas production as Russia's war on Ukraine rages on.

Doocy started with the reality that prices were already on the rise prior to Russia's formal invasion: "It sounds like you guys are blaming Putin for the increase in gas prices recently, but weren't gas prices going up anyway because of post-pandemic supply chain issues?"

Sure enough, Psaki painted a rosy picture on energy prior to Russia's unprovoked actions, saying "there's no question that...the anticipated continued increase...is a direct result of the invasion of Ukraine."
Houck then decided he could read Psaki's mind:
To Psaki's chagrin and pleas to "let me finish," Doocy reminded here that "President Biden signed an executive order his first week that halted new oil and gas leases on public lands."

Psaki ignored that fact in favor of saying she had to "give you the facts here — and I know that can be inconvenient, but I think they're important in this moment."

She gave away the game of many using the crisis to force burdensome so-called clean energy sources on Americans, Psaki said Americans need to "make the shift to secure a...clean energy future" even as "[w]e are one of the largest producers with a strong domestic oil and gas industry" with oil companies holding us back.
Houck censored the fact that the moratorium on new oil and gas leases has been left and, as a result, the Biden administration has issued more leases than the entire Trump administration.
Houck filled his cheerleader role for Doocy and another Fox News employee in his summary of the March 9 briefing, ridiculously headlined "News Team, Assemble!":
A day after President Biden announced a ban on Russian oil and as gas prices surged to record highs, The Psaki Show featured hardballs Wednesday afternoon on the impact of the Biden economy on consumers. Chiefly, questions from Fox News's Peter Doocy and Fox Business's Edward Lawrence led Psaki to struggle to defend the White House's policies on inflation, gas prices, and a refusal to support expanded domestic energy production.

First, to Lawrence's fact-checking of Team Biden. He began by calling out their continued flaunting of "green energy" as Americans struggle to stay afloat, let alone purchase an electric car.

[...]

Doocy Time arrived a few minutes later and started with a simple question:"Why did you guys decide to rebrand the rise in gas prices as the '#PutinPriceHike.'" That was followed by a second part:


[W]e have heard the President warn for months that gas prices were rising because of the supply chain and because of post-pandemic demand. If you guys knew for months that this was going to be the #PutinPriceHike, why are we just hearing that now?

After Psaki doubled down, Doocy shifted to drilling, with the Biden flack suggesting permitting was all that needed to happen before drilling (which the American Petroleum Institute has fact-checked)
Houck then linked to an article from the MRC's "news" division, CNSNews.com, that pretended a lobbying group's PR campaign was a "fact-check."
Houck also dutifully transcribed how Doocy pushed his employer's right-wing talking points about the Keystone pipeline:
Doocy tried to make things simpler, wondering "a restart of the Keystone XL construction" is "completely off the table as long as Joe Biden is President."

When Psaki replied that Doocy should "tell" her "what that would help address," the Fox correspondent noted that the administration has said "all options are on the table" amid an energy crisis.

Doocy also wondered why we're not partnering with "a friendly ally," but Psaki maintained "the pipeline is just the delivery mechanism" and "not an oil field."

Doocy tried one last time on Keystone restarting, but Psaki sniped that "it would not address any of the problems we're having."
Only a right-wing hack like Houck would describe a factual statement as "sniping." (And no mention, of course, of Rosen being a credibly accused sexual harasser.)
For his writeup of the March 14 briefing, Houck had a new pair of right-wing reporters to gush over:
Monday's episode of The Psaki Show featured Fox News's Jacqui Heinrich and Newsmax's James Rosen grilling Press Secretary Jen Psaki over the Biden administration showing weakness when dealing with Russian President Vladimir Putin in the lead up to his invasion of Ukraine as well as their reluctance to provide Ukrainian President Volodymyr Zelenskyy with the military support he needs.

The first one out of the gate was Fox's Jacqui Heinrich who, in light of the news her Fox colleague Benjamin Hall had been injured, wanted to know how the Biden administration would respond now that it appears that Russia is now shooting at American journalists:

[...]

Henrich was ready to take the gloves off, pressing Psaki that if the United States doesn't draw a "red line at something like chemical weapons" wouldn't it make it easier for Putin or other bad actors to use them in the future not worry about consequences?

In her typical style, Psaki gave Heinrich an attitude claiming that "you heard the President say on Friday that there would be severe consequences and the world would respond if they were to use chemical weapons."

Later on in the briefing, Psaki called on Rosen, and you could tell she immediately regretted it because Rosen really took it to her:

[...]

Rosen's follow-up question was just as brutal. Rosen argued that Biden and NATO allies never let Putin doubt what consequences he might face if he invaded Ukraine, Putin was told upfront what would happen, so Rosen wanted to know "why a greater effort wasn't made to leave Mr. Putin in doubt about the consequences he might face?"

Psaki responded that the reason why is because Biden is "the President of the United States of America, and he felt it was important to be clear with the American people about what his intentions were and what they were not."
Notice that it's always Psaki who has an "attitude" and never the right-wing reporters hurling biased questions at her. And, again, no mention of Rosen's slimy history.
Houck gushed over Heinrich again playing pedantic word games in his writeup of the March 16 briefing:
If you can believe it, Wednesday marked the 200th episode of The Psaki Show (as per the AP's Chris Megerian) and it featured some of everything, including a quintessential softball question about whether President Biden's a morning or evening person and hardballs from Fox's Jacqui Heinrich and Gray TV's Jon Decker on the latest Biden White House word games.

[...]

A few reporters later, it was Jacqui Time and she picked up on an argument Psaki had made throughout the briefing that the guns, missiles, and other military equipment and firepower supplied to Ukraine in the war against Russia were merely "defensive" weaponry and not "offensive"

Asking her to "lay out for us why the administration sees MiGs as provocative and javelins and stingers as not provocative," Psaki said with a straight-face that "javelins and stingers are defensive weapons" whereas "MiGs are planes — are offensive weapons, which are a different type of military system."
Related articles on ConWebWatch:

Curtis Houck's War On Jen Psaki (And Man-Crush On Peter Doocy), The Series:
It's weird that Houck would tacitly credit Psaki's dedication to her job by holding her 200th briefing; he made sure not to mention that Donald Trump's White House went more than a year without holding a press briefing, or that his beloved Kayleigh McEnany abandoned her job by refusing to hold briefings after the Capitol riot.

Houck made sure to fold in his employer's Hunter Biden Derangement Syndrome into his near-daily attacks on White House press secretary Jen Psaki as seen through biased right-wing reporters. His summary of the March 17 briefing focused on the former:
After scores of COVID and Ukraine questions at Thursday's White House press briefing, Real Clear Politics's Philip Wegmann and Daily Mail's Rob Crilly finally broke through with one question each about Hunter Biden in light of a New York Times report that all but admitted the New York Post was right in 2020 about his infamous laptop. Unfortunately, Press Secretary Jen Psaki wanted nothing to do with them.

[...]

Of course, Psaki wasn't interested, saying Wegmann should speak "to the Department of Justice and also to Hunter Biden's representatives" because "[h]e doesn't work in the government."

Imagine if/when a Trump press secretary said that about Donald Trump Jr. and Eric Trump amid four years of the liberal media obsessing over their business careers? The horror!
A second report from Houck on that day's briefing mocked reporters for still being concerned about COVID, dismissing it as "fear porn" (as if his employer's obsession with Hunter Biden was not that):
Thursday's Psaki Show reminded viewers of a sad but necessary reminder that too many in the liberal media will never relent on fear porn surrounding the coronavirus and their penchant for restrictions on everyday life. Such was the case with numerous reporters pushing the press secretary from the left to reinstitute them due to a new omicron variant and Second Gentleman Doug Emhoff's positive test.

The AP's Zeke Miller started off the Q&A with a question as to when President Biden was last tested in light of Emhoff's diagnosis and that of the Irish Prime Minister (whom he was supposed to meet with) and, when Psaki said the last test was on Sunday, Miller offered a long-winded commentary masquerading as a question.
As if the right-wing reporters Houck loves don't offer commentaries masquerading as questions. Indeed, for the March 18 briefing, he called those biased questions "hardballs":
Try as she might to ignore them and find favor with liberal reporters who won't join in, Hunter Biden questions aren't stopping anytime soon for White House press secretary Jen Psaki with Friday's Psaki Show being the latest example in the form of a tense back and forth with the New York Post's Steven Nelson.

Friday's exchanged followed two questions the day prior (thanks to Real Clear Politics's Philip Wegmann and the Daily Mail's Rob Crilly) about a New York Times story that all but acknowledged Nelson's Post was correct when it came to emails detailing Hunter's life of corruption on a laptop left at a Delaware repair shop.

Nelson kept his Times-specific question brief: "The New York Times reported this week that the First Son remains under criminal investigation. Does the President still intend to stay out of that case?"

Psaki largely stuck to her line from Thursday: "Yes. It's Department of Justice and I would point you to them."

Nelson then shrewdly approached the issue of Biden family corruption from a different angle, starting with a Senate Republican report (which CNN and the other so-called fact-checkers have denounced as without evidence) that said a company connected "to the First Son received $3.5 million from the richest woman in Russia."
Houck didn't complain that Nelson was straight-up repeating Republican talking points the way he likes to portray non-right-wing reporters for repeating Democratic talking points. He also didn't mention that Psaki served up a detailed rebuttal of Republican Sen. Josh Hawley's false smears of Supreme Court nominee Ketanji Brown Jackson on sentencing child porn offenders.
Psaki then came down with COVID again, and Houck once again lost interest in doing briefings for a while because a non-Psaki (deputy press secretary Chris Meagher) was on the podium in her stead. Houck somehow refrained from mocking Psaki for not being able to "move on" from COVID.
The latest from