MRC Looking Forward To Seeing WNBA Star Rot In Russian Jail
Topic: Media Research Center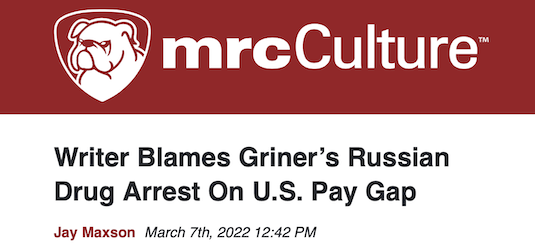 The Media Research Center has never been a fan of WNBA star Brittney Griner, mainly for her failure to be heterosexual. In 2018, for example, Jay Maxson noted that Griner "came out as lesbian," parenthetically sneering, "yawn; that's not news in that league." So it's no surprise that the MRC is more than happy to see Griner rot in a Russian jail in the middle of a war. Maxson huffed in a March 7 post:
When Moscow airport screening officials discovered vape cartridges filled with cannabis oil in Brittney Griner's luggage in February, they detained her. Now the 6-foot-9-inch WNBA player is looking at 10 years in a Russian prison for "large-scale transportation of drugs."
Note how easily Maxson is taking the word of a corrupt, warmongering government at face value. Never mind, of course, that the Russian government has not offering anything remotely resembling evidence of Griner's alleged misdeed.
Maxson, however, spent most of his post lashing out at a writer who pointed out that Griner was making so little as a WNBA star that she felt she needed to play overseas for a Russian team to make more money. Maxson whined that the writer was "quick to excuse Griner's drug indiscretions" -- again, no proof that any "drug indiscretions" were committed has been made public -- going on to huff:
[The writer] says players like Griner can make much more money playing overseas than in the WNBA, with its league maximum salary of $227,900. That's not exactly chump change, but it certainly deflates the merits of the Insider sob story. In fact, Griner's WNBA pay is nearly five times the average U.S. salary. She also earns $1 million from Ekaterina, pushing her total salary to 25 times the average U.S. salary.

Long story short, Griner is loaded, she doesn't need two jobs and Cash's story is a joke. Griner is one of 11 players who has won championships in the WNBA, NCAA, the Olympics and the EuroLeague. She is paid exceedingly well for exhibiting that resume.
Maxson's comparison is deceptive; he (or she) should really be comparing Griner's salary to that of other athletes, not the general population. And is Maxson really saying that Griner earns enough money -- indeed,too much -- and shouldn't be working so hard to try and make more? How socialist.
Maxson also complained that the writer "suggests the Russian war on Ukraine might just make Griner's situation more perilous. The basketball star could be used as a pawn 'in a fiery feud between two global superpowers' Cash got this idea from the New York Times." He (or she) then summarized the writer's position as "Griner could have avoided jail time in a 'hostile foreign power' if only she was on the same pay scale as LeBron Jame$, letting loose with another sneering retort: "That's never going to happen because the WNBA is nowhere close to the marketability and the revenue of a major male sports league."
In short: Maxson is taking Russia's side, cheering Griner's arrest by a hostile foreign power to spite women in general and LGBT women in particular.
Posted by Terry K. at 1:58 PM EDT
Updated: Friday, March 18, 2022 2:07 PM EDT