CNS' Jones Uncritically Pushes Pro-Trump Election Narratives
Topic: CNSNews.com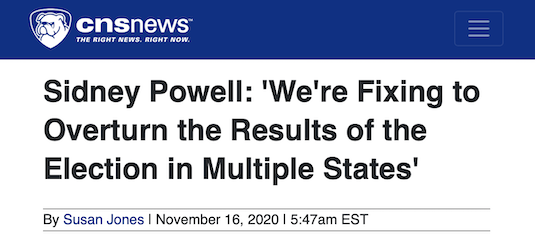 One of the leaders at CNSNews.com of perpetuating biased pro-Trump narratives in the immediate aftermath of the presidential election was reporter Susan Jones.
Jones was very busy on Nov. 9. First, she complained that Joe Biden has "been declared the winner by major news outlets," then gave Republican Sen. Roy Blunt space to refuse to acknowledge Biden won and huff that "the media doesn't get to decide who the winner is. There is a canvassing process."
Of course, Jones couldn't admit Biden won either. She demonstrated that denial in another article that day transcribing President Trump taking credit for the first announcement of a coronavirus vaccine, which she wrote "comes six days after the election that Democrats insist Joe Biden won, despite the continuing vote count and legal challenges in a few swing states."
After that, Jones indulged in pushing the right-wing (and CNS) narrative that Biden getting a record number of votes doesn't really matter because Trump got nearly as many: "Democrat Joe Biden won more than 75 million votes, the most of any presidential candidate; but President Donald Trump won 70 million votes, the second highest total in history."
Jones continued to promote pro-Trump narratives over the next few days, with minimal pushback if any, regarding the president's increasingly desperate challenges to vote counts across the country:
It wasn't until Nov. 19 that she wrote her first article on the reality of Trump's failing election challenges, under the headline "Georgia Secretary of State: 'We Have Not Seen Any Widespread Voter Fraud'." But even then she wasn't willing to competely give up the conspiracy theories, complaining that "partisan host Jake Tapper" pointed out that speculation about election software allows certain people to change vote tallies is "frankly crazy stuff, tin foil hat stuff."
Posted by Terry K. at 1:17 AM EST