CNS' Jeffrey Whines Biden's Victory Speech Interrupted A Football Game
Topic: CNSNews.com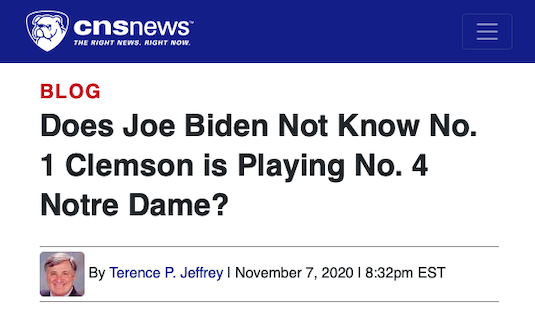 CNSNews.com editor in chief Terry Jeffrey is a bit of a football fanatic -- so much so that, for some unexplained reason, today's CNS front page includes a link to a 2012 column by him gushing that the Princeton-Harvard game that year was "football as it was meant to be."
But that love -- on top of his apparent seething hatred for all things liberal -- led him to post what may already be the worst take on Joe Biden's defeat of President Trump. He actually felt the need to write an entire article to petulantly whining that Biden's victory speech interrupted a football game:
Former Vice President Joe Biden and his running mate, Sen. Kamala Harris decided to give victory speeches in Wilmington, Del., on Saturday night, causing NBC to break away from its broadcast of the football game between No. 1 Clemson and No. 4 Notre Dame to cover the speeches.

The game was in the second quarter--and Biden could not even wait until halftime.

Did Biden believe it would increase his audience to interrupt the broadcast of a contest between the No. 1 and No. 4 college football teams in America?

Did Biden--a self-described devout Catholic--know that Notre Dame was playing Clemson?

Notre Dame and Clemson fans--and fans of college football wanting to watch the contest between two of the leading teams in the country--were forced to switch to a cable channel to continue watching the game as Harris and Biden interrupted it.
That's the caliber of "news" coverage we've sadly come to expect from CNS. Expect much more petulance as the Biden administration proceeds.
Posted by Terry K. at 11:31 AM EST