Maddow's Trump Tax Reveal Sends MRC Into Attack Mode
Topic: Media Research Center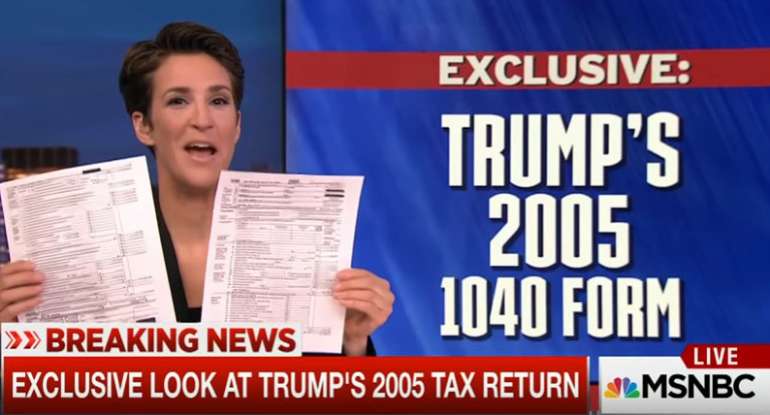 After MSNBC's Rachel Maddow revealed a couple of pages of Donald Trump's 2005 tax returns, the Media Research Center went into overdrive trying to dismiss it as a "fail" and/or a "flop" and/or a "non-story":
The fact that the MRC devoted 12 posts to Maddow's tax-return reveal within 48 hours after the story aired would seem to indicate the opposite of what it's trying to tell us -- that it really wasn't the "fail" or "non-story" the MRC repeatedly insists it was.
The MRC is certainly not going to give Maddow credit for doing something no other media organization has done to date, as the Washington Post's Erik Wemple points out: get Trump to didsclose information about his taxes.
The MRC went even further into pro-Trump spin mode with a March 17 post by James Powers asserting that "Trump's effective tax rate for 2005 was 79 percent" accounting for the $103 million in losses he took (on $151 million in income) and the alternative minimum tax he paid.
Sad, really.
Posted by Terry K. at 9:28 PM EDT
Updated: Sunday, March 19, 2017 9:33 PM EDT