MRC Hate-Watches Miniseries On Gay-Rights Movement
Topic: Media Research Center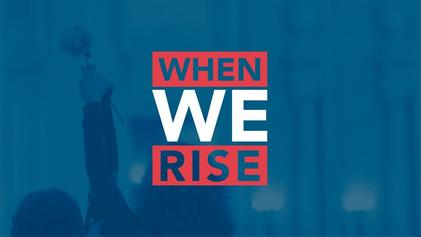 The Media Research Center has been attacking "When We Rise," an ABC miniseries on the history of the gay-rights movement, since it was first announced.
In a December 2015 post, Sarah Stites huffed that "It's no secret that ABC pushes the gay agenda," adding that the miniseries was written by "openly gay screenwriter Dustin Lance Black," who is "not new to activism through media," and that "His new 8-hour miniseries is likely to be similarly acclaimed by the major media."
Stites also claimed that "The ABC network has also promoted its bias more subtly through support of LGBT events," desperately citing "the 2015 DC Pride Parade. WJLA channel 7, ABC's local news station, was listed under the Capital Pride Alliance's Rainbow sponsorship level." But WJLA is not owned by ABC; at the time of the 2015 parade, it had just been purchased by right-wing TV station owner Sinclair Broadcast Group -- something the MRC failed to mention in its original post on that subject. (By the way, WJLA and its sister station, News Channel 8, remains a Capital Pride Alliance sponsor, somsething the MRC is unlikely to bring up lest it offend its fellow conservatives at Sinclair.)
The MRC ramped up the hate as the miniseries' airdate neared. A Feb. 14 post by Matt Norcross repeated a claim from the right-wing, Rupert Murdoch-controlled blog Heat Street that the miniseries "glorifies violence against police officers,"based apparently on nothing other than a cursory view of the "When We Rise" trailer. Norcross went on to denounce the series as "potential propaganda" and argues that "perhaps it'ss time for Disney to let go of ABC and sell it to another party."
Norcross also complains that the miniseries "stereotypes Americans in Republican-controlled states as homophobic" -- again, based on only the trailer. Of course, Norcross doesn't admit that's hardly an out-of-the-mainstream viewpoint.
When it came time to hate-watch the show proper, Alexa Moutevelis Coombs was given the task. Her post on part 1 lived up to the hate by immediately declaring it "ABC's eight hour gay propaganda event," further ranting that the series "immediately gets into the leftist activism with a montage bashing Republicans and comparing gay rights to the fight against Nazism and the Civil Rights movement -- and it all goes down hill from there." She took particular exception to "all the gay characters kissing and hooking up in various states of undress within the first 10 minutes" and whined, "There are so many leftist tropes checked off in the first two hours, I can only imagine what's coming in the next six."
Coombs then wrote: "LGBT sacred martyr Matthew Shepard is referenced, 'Those who truly hate us…are trying young men to fences in Wyoming and cracking their skulls open.' Of course, we now know that Shepard's murder, horrific as it was, was not a hate crime." Coombs is clinging to right-wing revisionist history that insists that we take the word of Shepard's killer now that it was merely a drug deal gone bad and igore the fact that he mounted a gay-panic defense during his trial.
Coombs' review of part 2 again calls the show a "gay propaganda miniseries," expressing anger that President Reagan was depicted as insenstive to the burgeoning AIDS crisis during his presidency. Coombs rushed to his defense by citing something that didn't happen during his presidency: how Reagan "took a risk by publicly opposing" a 1978 California initiative that would legalize firing any gay teacher or support staff in California public schools. She then grumbled, "I suppose it was too much to ask that this series give a little credit where credit is due to a conservative legend."
For part 3, Coombs is joined in her hate-watching by Karen Townsend, and they complain that "The slander of President Ronald Reagan's legacy by liberal gay activists continues," insisting that Reagan really did care enough about AIDS to fund research into it.
Townsend took over completely for the final installment -- apparently, Coombs ran out of hate to hurl -- and she complained that Christians are now becoming the victims of gays:
I wonder if the show's creator, Dustin Lance Black, understands that people of faith also feel under attack for not falling in line with the gay agenda pushed in today's entertainment world and that Christians are being persecuted for their religious beliefs. The left fails to understand that it is not because of hate that people of faith oppose same sex marriage – it is because of their belief in religious principles. Christian bakers, photographers, and function hall owners are being forced to choose between violating their conscience or losing their livelihood.

When We Rise doesn't seem to recognize - or care - when others fall.
Townsend forgets that anti-discrimination law forbids denial of service to anyone by those who offer their services to the public.
When the ratings for "When We Rise" didn't go well, the MRC called in a longtime professional hater, Matt Philbin, to gloat over the alleged failure:
The truth is, When We Rise was as self-absorbed and entitled as the LGBT movement it chronicled – utterly lacking empathy for anyone who's convictions don't allow them to fall in line with the agenda. Thus, gay marriage wasn't enough, they had to make Christians bake the cakes for those weddings. Rather than persuade, Black et al used the opportunity of When We Rise to slander Middle Americans as benighted cretins brimming with hate for gays.

The truth is, Dustin, we're benighted cretins who just aren't that into you – one way or the other.
Hey, at least Philbin admits he's a cretin. Of course, if the MRC really didn't care "one way or the other" about "When We Rise," it wouldn't have sent three writers to make sure every night of it got hate-watched.
Posted by Terry K. at 4:56 PM EST