CNS Managing Editor Devotes A 'News' Item To Repeating Movie Dialogue
Topic: CNSNews.com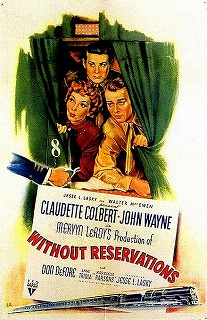 CNSNews.com managing editor Michael W. Chapman's skewed idea of newsworthiness is not limited to pearls of anti-Muslim and anti-Obama wisdom from Franklin Graham. He now considers fiction to be news as well.
A June 8 CNS blog post by Chapman is headlined "John Wayne Schools Liberal Author on American Freedom and Giving Thanks to God."That gives the impression that Chapman will quoting Wayne saying something patriotic to respond to some modern-day "liberal author" who said something Chapman didn't like. Turns out that's not it at all -- Chapman is simply repeating dialogue from a film Wayne starred in. No, really:
The people who founded and built America did not rely on big government for a hand-out or demand "insurance for their old age," but were rugged individualists, self-reliant, real "men" who looked up at the sky and said, "thanks God, we'll take it from here," said the actor John Wayne in the movie Without Reservations.

Wayne, himself a conservative, portrayed U.S. Marine Capt. "Rusty" Thomas in the highly successful 1946 film. In the movie, while traveling by train to California, liberal author "Kitty Kloch," played by Claudette Colbert, expresses her optimism about a "new world" where the "advantages of citizenship" are shared by all and the "laissez-faire attitude" is cast aside.

John Wayne, "Rusty," sets her straight.
That is, yes, followed by a copy-and-paste of the relevant dialogue from the film.
Chapman doesn't mention, of course, that "Without Reservations" is a romantic comedy in which Wayne and Colbert are the star attractions who resolve their differences and hook up at the end (in a 1946 way, of course).
Or that Colbert's character actually wants Wayne's character to star in the film adaptation of her book which suggests that the snippet of dialogue Chapman quoted is at least a little out of context.
Or that Wayne was simply repeating dialogue somebody else wrote for him (in this case, Andrew Solt); if he said them with such conviction that it melted Chapman's heart, that makes him nothing more than a very good actor.
Chapman also forgets that, despite insisting on telling us that this film was "highly successful" and pointing out that it had "a reported budget of $1,683,000, and it grossed $3,000,000 at the box office," there is not necessarily a direct relationship between a film's popularity and its quality, a truism Chapman's fellow travelers at the Media Research Center just don't get.
It seems Chapman is increasingly living in a fantasy world where he can't tell movies from reality. Yet, somehow, he's still the managing editor of a "news" operation.
Posted by Terry K. at 1:04 AM EDT