WND Author Thinks Teachers Are Criminals
Topic: WorldNetDaily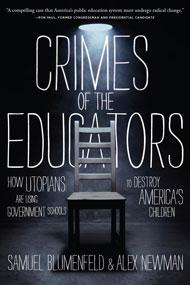 We last caught Alex Newman using a WorldNetDaily article to whitewash the racism of the white right-wing South African extremists in lamenting "increasingly marginalized European-descent South Africans." Now the writer for the New American, the website of the far-right John Birch Society, is on board as a full-fledged WND author, and his ideas are just as extreme as one would expect from his pedigree.
Newman is co-author, along with longtime WND columnist Samuel Blumenfeld of the new WND-published book "Crimes of the Educators." And yes, he really does think teachers are criminals on the level of Hitler and Pol Pot -- an comprarison absurd on its face and should alone be enough to disqualify their book from serious consideration. But WND believes in the Big Lie technique --
complete with an elaborate conspiracy theory to supposedly prove it, as illustrated by the book's promotional copy:
Utopian dictators like Stalin, Hitler, Pol Pot and Mao are criminals – genocidal psychopaths who have killed more human beings in the last hundred years than any other ideologues in history. They don't limit their murder to individuals, but to entire nations.

In the United States another form of utopians, the "progressives," have tried to destroy traditional America by strategically dumbing down her people. America's future is being crippled on purpose in order to fundamentally transform the nation, its values and its system of government. Laid out a century ago by progressive luminary John Dewey, the fruits of his schemes are plain to see today. Dewey got rid of the traditional intensive phonics method of instruction and imposed a "look-say," "sight" or "whole-word" method that forces children to read English as if it were Chinese. The method is widely used in today's public schools, which is a major reason there are so many failing public schools that cannot teach children the basics. This can only be considered a blatant form of child abuse.

[...]
The whole-word method of teaching children to read – introduced by John Dewey and colleagues in the early 20th century and which permeates Common Core – is a significant cause of dyslexia among students.
There is evidence that the whole-language approch does not work with students who have dyslexia, but Newman and Blumenfeld are claiming that the mere act of teaching whole-language causes dyslexia.No eveidence is mentioned, either in the blurb or in a May 25 WND article making the same claim, that backs up this assertion.
Newman and Blumenfeld ignore one key problem with phonics: There are so many English words that violate the standard sound-symbol rules that at least some memorization of words -- the "whole language" approach they despise -- is necessary to be fully literate.
As befits Newman's extremism, the May 25 WND article documents Newsman's appearance on conspiracy-monger Alex Jones' radio show to promote his book, where he spews more slanders of teachers:
When you put all of this together, says Newman, it's not only horrifying, but it's a crime against the American people.

"This is a gigantic criminal enterprise masquerading as a government school system, and it's deliberately dumbing down the children," Newman declared.

[...]

Newman hopes "Crimes of the Educators" will help destroy the globalists' scheme by alerting people to what's going on.

"If this information were more widely known, the entire edifice would collapse because all of it rests on a dumbed-down public that can't read well, that can't do math," Newman said.

From what the author has seen lately, he thinks the globalists are accelerating their plans because they are nervous.

"They know that they've got to get this all done as quickly as possible because people are waking up right and left by the millions, and once we reach a critical mass of people who are awake, this whole thing is going to come crashing down," Newman declared. "They're going to end up in prison, and that's serious stuff."
The article also states that the authors "decry public schools for destroying children's religious beliefs by teaching evolution and secular humanist doctrines. The authors note that lack of religion is a hallmark of totalitarian societies." Talk about your base demonization.
While Newman and Blumenfeld's book is laughable and paranoiac on its face -- complete with references to "socialist utopians" who want to create "a global government, a global society, a single world religion" -- that's WND's stock in trade. It's never corrected or apologized for any of its birther falsehoods, so look for it to promote the hell out of this book, no matter how discredited it becomes.
Posted by Terry K. at 4:45 PM EDT