MRC Writer Thinks Musicians Get Paid By The Hour
Topic: Media Research Center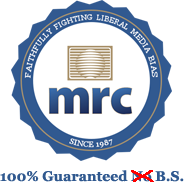 For someone whose job it is to write about business, the Media Research Center's Joseph Rossell doesn't know much about it. Take this opening paragraph from Rossell's June 26 MRC Business & Media Institute item:
Left-wing Apple is huge and popular with the technorati. It became the world's first company worth $700 billion, and was once rich enough to buy the entire island of Cyprus. But Apple said it can only afford to pay musicians pennies an hour for streaming their music, approximately 27 times less than Chinese factory workers earned making the Apple Watch.
Wow -- so much wrong in one paragraph. We'll skip the fact that Rossell offers no evidence to claim Apple is "left-wing," and we'll take a educated guess that a not-insignificant number of Rossell's MRC employees use Apple products, which undermines his sneering at the company's supposed politics. Instead, we'll move right to his complete ignorance of how musicians are paid for their music.
Rossell's claim that Apple's new music streaming service pays "per hour" is utterly wrong. No streaming service does that. He later concedes that streaming services pay on the basis of how many times a song is streamed, but he clings to the per-hour claim to push his apples-to-rutabagas comparison with the salaries of Chinese workers, insisting that "it was far stingier with musicians than some Apple suppliers were with their Chinese employees."
But musicians do not work for Apple on a salaried or even a contract basis the way a factory worker does for his or her employer, and Apple paying a royalty to musicians for streaming their music is not even remotely the same as someone being paid to work several hours a day at an Apple supplier.
Rossell doesn't seem to understand that, unlike that Apple supplier worker, musicians have multiple streams of revenue. Rossell portrayed musician Pharrell Williams as kind of poor because of the paltry streaming revenues he receives. But as Forbes details, he will make $32 million this year; he makes money from not only his music sales and touring but also from his clothing line and appearances on the TV show "The Voice."
If Rossell is so concerned about the revenue of musicians, he might want to focus his ire on radio stations, which pay nothing to musicians for the songs they play. But then, the National Association of Broadcasters, the lobbying group for radio stations, opposes paying royalties, and the contributions of its PAC appear to skew Republican.
But that would require knowing something about how business works, which, again, Rossell doesn't.
Posted by Terry K. at 4:39 PM EDT