Duggar Story Miraculously Returns to CNS Front Page
Topic: CNSNews.com
It seems that CNSNews.com has realized that the Josh Duggar molestation story is news after all. Or maybe they just got tired of us pointing out that its attempts to censor and bury the Duggar story disqualify it as a news operation.
A day after CNS perfunctorily summarized the Duggar family's Fox News interview on the scandal -- in which it treated the Duggars' statements as indisputable fact and ignored their misleading statements and self-proclaimed victimhood over the molestation report going public -- then pulled the story off its front page as soon as it could, the story on the Duggars' "sins" (not crime) mysteriously reappeared on the CNS front page in the culture section: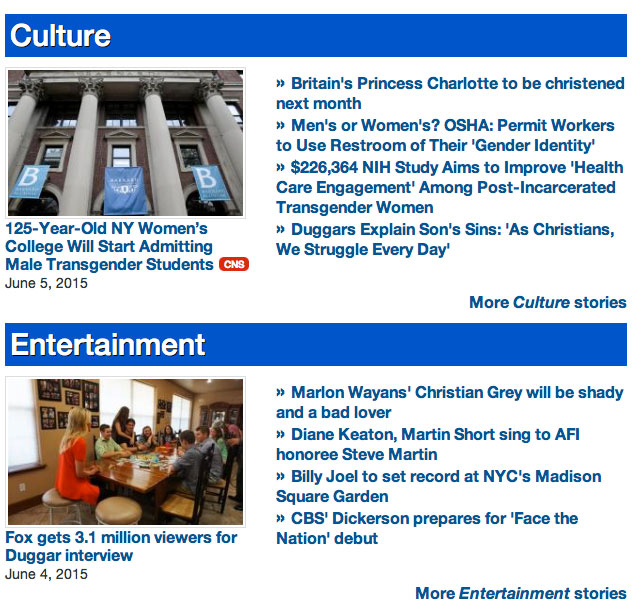 The front-page section summaries appear to reproduce the top five headlines on its
culture page
. As we noted, CNS originally made sure the Duggar story wouldn't make the front-page summary by burying it below stories that were much older. Sometime on June 5 -- a day after CNS originally buried the story -- the Duggar story got promoted to the fifth slot, thus making it appear on the front page.
But also notice what the lead story is in the entertainment section -- an Associated Press
article
on Fox News' ratings for the Duggar interview. So, apparently, touting the ratings coup for CNS' friends at Fox News for the interview is bigger news than the content of the interview itself.
Well, it takes baby steps for CNS to make its way back to the pretense of being a real news organization.
Posted by Terry K. at 12:44 PM EDT