MRC's Bozell & Graham Throw Pope, Cardinal Under The Bus Over Encyclical
Topic: Media Research Center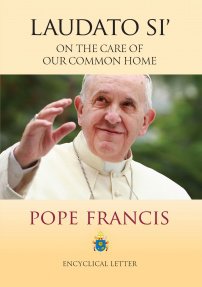 Pope Francis' encylical on climate change, "Laudato Si," poses a challenge to people like the Media Research Center's Brent Bozell and Tim Graham, who present themselves as uber-Catholics who try to bully anyone who dares criticize the church.
But the pope's encyclical forwards the horrible (to Bozell and Graham) concept that climate change is manmade and that efforts must be made to counter it. After all, the MRC has long misled its readers about climate change while serving as a shill for fossil fuels (and failing to disclose that it receives donations from the oil and gas industry).
Thus, we have the uncomfortable-looking attempt to split the baby, in which Bozell takes on the encyclical in a June 22 NewsBusters item by ... defending Rush Limbaugh. Because, apparently, Limbaugh ranks above even the pope or his fellow Catholics as someone who warrants defense no matter what stupid thing he says (as the Sandra Fluke episode amply demonstrated).
Bozell was upset that none other than D.C. Archbishop Cardinal Donald Wuerl shot down Limbaugh's attacks on the pope's encyclical as "saying is that every Catholic should vote for the Democrat Party" by noting that even people who don't know what they're talking about can speak their mind. That was apparently too much for Bozell, who is simply shocked that anyone could accuse Limbaugh of not knowing what he's talking about, so he throws a cardinal under the bus and insist that he's the idiot, not Limbaugh:
With all due respect, it is Cardinal Wuerl who doesn't have a clear view of what the other person is saying.

Laudato Si has unleashed an enormous national (and international) discussion. As many theologians have expressed so passionately, this is not -- NOT -- a political document. The essence of this encyclical transcends politics. It is, at its heart, a spiritual message calling on humanity to show greater reverence for nature -- and not as Gaia but as a gift from God. Were the focus there, and there alone, it would be a message that could be embraced by every conservative, and conservatives would be well advised that is is something everyone should.

Sadly, the document trends, needlessly and annoyingly, into the political arena, with ideological pronouncements that will allow the political left to manipulate the conversation. They'll pounce on them in order to claim the moral high ground alongside the scientific high ground.

Thus Rush is correct. When next I read that some left-wing political leader is using this encyclical to further his political agenda, it will be my fervent hope that Cardinal Wuerl will respond by telling him that doesn't have all the facts, and doesn't have a clear view of the intention of Laudato Si.
But as we all know, Bozell is simply the mouthpiece through which Graham's words flow; thus, the subject gets recycled for the syndicated column for which Graham gets co-credit (at last!). They play the Rush-is-right card again but refrain from throwing the cardinal under the bus once more.
Instead, the pope gets the under-the-bus treatment. They sneer at the pope's "numerous unnecessary and annoying genuflections to liberal political ideology," dubiously insist "tere never was scientific consensus" on climate change, laughably claim that the term "climate change" was invented by the left when, in fact, it was popularized by right-wing linguistic guru Frank Luntz.
You can almost hear the bones crunch as the bus backs up for another swipe when Bozell and Graham huff, "Francis is now the poster child for radical environmentalism the world over."
The authors then try to clean up their mess by praising the part of the pope's encyclical "that could be interpreted as endorsements of the social conservative agenda." Then they close by taking another shot at the pope's "confounding incoherence," calling his encyclical "a beautiful tapestry marred by political graffiti."
But aren't Bozell and Graham the ones playing the poltical graffiti game by dismissing the parts of the pope's encyclical they personally don't like? What makes them think they know better than the pope on this subject? And doesn't being a cafeteria Catholic on the encyclical run counter to the orthodox brand of Catholicism they claim to follow?
And they can't deflect from their own fossil-fuel ties by tossing out George Soros or Tom Steyer as bogeymen to counter the pope, as they typically do.
So ultimately, Bozell and Graham's attempt to blunt the message and impact of the pope's encyclical is as confoundingly incoherent as they claim the pope is.
Posted by Terry K. at 7:12 PM EDT