Trump's Candidacy Gets A Newsmax TV Special
Topic: Newsmax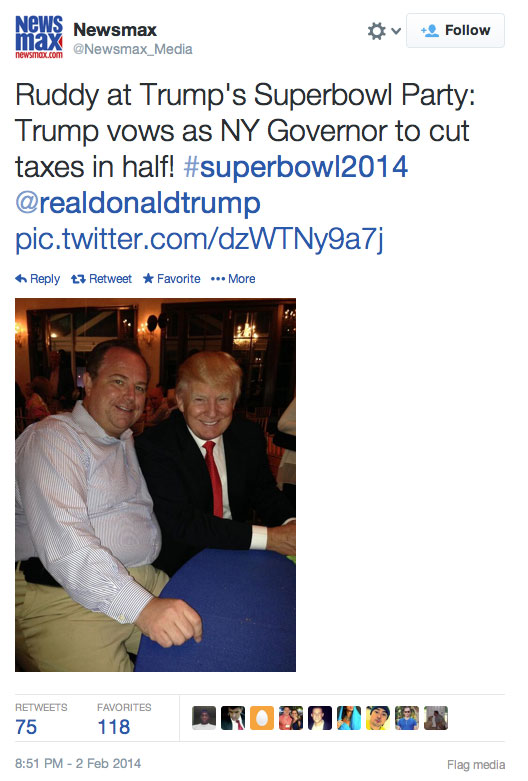 The mutual lovefest between Newsmax and Donald Trump goes way back -- it was the lead cheerleader for a Trump presidential candidacy in 2011, and the two attempted to host a Republican presidential debate together. Newsmax CEO Christopher Ruddy has no problem with this, saying at one point, "Trump realizes the great potential of Newsmax and has been using it very adroitly. We're well aware he's using it, happy he's using it."
Newsmax has been touting Trump's presidential ambitions again for this election cycle, and Ruddy hung out at Trump's house to watch the Super Bowl. So with Trump actually declaring a presidential run, it's no surprise to see Newsmax give a little extra love. As a June 16 Newsmax article by Todd Beamon explains, Trump's announcement is getting its own special on Newsmax TV:
Newsmax TV will feature a special presentation on Donald Trump's 2016 Republican presidential announcement Tuesday at 10 p.m. EDT.

This special edition of "Newsmax Prime" will feature host J.D. Hayworth and analysis by former New York Lt. Gov. Betsy McCaughey.

In a rousing, no-nonsense speech at Trump Tower on Fifth Avenue in New York earlier Tuesday, the billionaire developer and businessman declared: "I will be the greatest jobs president that God ever created.

"I will bring back our jobs from China, from Mexico, from Japan, from so many places," Trump said.
Correct us if we're wrong, but we don't recall Newsmax TV giving the "special presentation" treatment to any other Republican presidential candidate.
Posted by Terry K. at 8:29 PM EDT