WND's Loudon Goes Godwin to Defend the Duggars
Topic: WorldNetDaily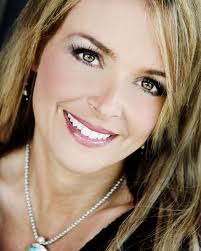 WorldNetDaily columnist Gina Loudon is on quite the tear lately when it comes to spouting misinformation and general right-wing wackiness. Two weeks ago, Loudon was desperately defending the Duggars and insisting that anyone who's not Christian has no moral code. Last week, she was making grossly uninformed rantings about transgenders, doubly disturbing since she claims to have a doctorate in psychology.
In this week's WND column, Loudon begins by explaining how "The elections in 2016 can be won by the right," then goes on to "remind conservatives watch for Saul Alinsky's rules to be used against them over, and over, and over" -- apparently oblivious to the fact that conservatives use those same rules against liberals all the time.
Then, Loudon pulls the oldest trick in the book -- attacking the messenger -- in order to distract from the unabmbiguously proven allegations about the Duggars, raising the irrelevant specter of the background of the company that owns In Touch, the gossipmag that broke the Duggar story:
Let's take a look at the people behind the assault on the Duggars and American-style individual liberty and protections for children.

Bauer Holdings, the German conglomerate that owns In Touch Magazine, trades in all kinds of societal derogating trash and probably enjoys little readership among Duggar family loyalists. Christian converts are bad for business. Attacking the Duggars is a three-fer: Sell magazines, defend your market, and help make sure no conservative is elected to the White House in 2016. So they would dedicate a lot of time and money to investigate and paint the Duggar family as exhibit A of why we can never give spotlight or power to a conservative.

According to an investigation in the The Wrap, one of Bauer's subsidiaries is Der Landser, a Nazi-sympathizing, skinhead magazine in Germany. Germany's equivalent of Time Magazine, Der Spiegel, described the Bauer publication as "a specialist journal for whitewashing the Wehrmacht," Hitler's war machine.

Bauer also published the magazine Zuerst! Dieter Munier, the publisher of that magazine is a known German neo-Nazi leader for more than 40 years. Bauer sold that magazine in 2012 after public outrage became overwhelming.

Bauer's holdings don't stop at Nazi sympathizing or Holocaust denial. Bauer owned multiple distributorships of pornography, including (you can't make this up) many Nazi-themed porn movies.
That's some impressive Godwining there, Gina!
Like any good apologist, Loudon never explains how this disproves In Touch's reporting on the Duggars -- of course, that's because it doesn't. In Touch didn't use any secret Nazi techniques to get the Duggar story, as Loudon would like to imagine; it used old-fashioned reporting.
Loudon also repeats her if-you're-not-Christian-you're-nothing smear of anyone who's as far-right as she is: "If you look closely, the entire Duggar story was a not-so-subtle message to conservatives, especially those who are seeking office: Only those who have no standards should be allowed to judge those who do."
Loudon presents herself as a Christian, yet she lies and smears with ease and impunity and stoops so low is to invoke Nazism to defend a teenage child molester. What are these "standards" she claims to have again?
Posted by Terry K. at 2:40 PM EDT