NewsBusters Laments Hastert Scandal 'Tragedy' ... For Hastert
Topic: NewsBusters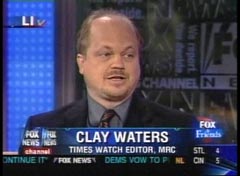 Clay Waters writes in a May 31 NewsBusters post:
The New York Times classless liberal columnist Paul Krugman has a reputation for exploiting tragedy for partisan gain, and did so again in a Sunday afternoon blog post about former Republican House Speaker Dennis Hastert, who is accused of using hush money to cover up sexual misconduct with a former student.
Waters is not lamenting the aformentioned "tragedy" for Hastert's victims -- he's lamenting it for Hastert. How dare Krugman write about a Republican congressman's alleged crimes?
By the way, the word "crime" appears nowhere in Waters' post in relation to Hastert's alleged actions. But he knows it's somehow a "tragedy" -- but, apparently, not a crime -- for Hastert for such behavior to be revealed.
Who's really the classless one here?
Posted by Terry K. at 10:14 PM EDT