CNS Actually Reports On Duggars -- Then Quickly Buries It
Topic: CNSNews.com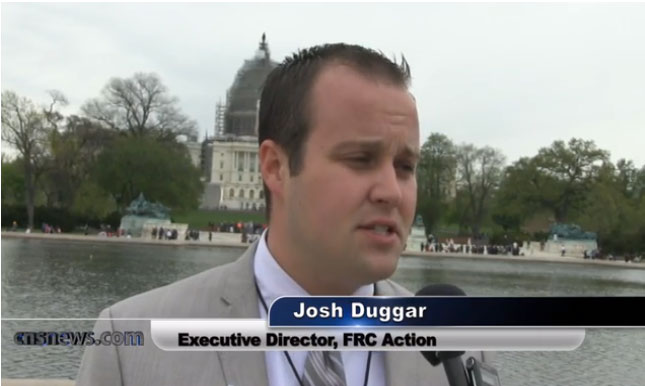 CNSNews.com is only grudgingly reporting on the Josh Duggar molestation scandal, as if it wouldn't be happening if the "news" part of CNS' name wasn't instilling guilt in its editors. It first censored the story, then reported on it only when it became too big to ignore -- and even then it was dismissed in a blog post, not treated as actual news.
The Duggar family's interview with Fox News' Megyn Kelly was also too big to ignore, so CNS couldn't get away with censoring it. Thus, we have a June 4 article -- unbylined, credited only to "CNSNews.com Staff," as if no CNS employee wanted to be on record reporting facts about that Duggars that conflicted with their right-wing Christian image -- that dutifully summed up the interview. The article was still an advocacy piece for the Duggars, playing down the actual offenses of Josh Duggar and playing up the family's self-proclaimed victimhood at the release of the police report on his offenses.
Those offenses are only referenced once in the first 12 paragraphs of the article, eupemistically described as him having "inappropriately touched" his sisters and "groped a babysitter." The article declared that "the Duggars detailed the problem they faced 12 years ago -- a son who three times came to them and confessed to molestation; what they did about it -- eventually sending him out of the home for Christian-based counseling and later to talk with a policeman; and what they now see as the bigger scandal -- the illegal May 21 release of their son's juvenile police record to a tabloid." The article further insisted that "The Duggars explained the facts of the case."
CNS was certainly not about to live up to its mission statement to "fairly present all legitimate sides of a story" and acknowledge criticism of the Duggars. Thus,you won't read at CNS how some of the Duggars' answers to Kelly are at odds with the established facts in the case. And you certainly won't see CNS point out the obvious conflict between Jim Bob Duggar's claim that "We had nothing to hide" and his complaint about the juvenile record of Josh Duggar's offenses being release.
Another sign CNS wants to bury this story: While it appeared on the CNS front page this morning, all trace of it was off the front page by mid-afternoon. And even on the CNS "culture" section page, it's buried under much older stories, such as a May 27 article detailing the latest attempt to portray any LGBT-related federal spending as a waste.
Apparently, news is "news" at CNS only if it advances the right-wing agenda of its parent, the Media Research Center. Otherwise, it will get short shrift.
Perhaps it's time for CNS to admit that it's not in the news business but, rather, in the propaganda business.
Posted by Terry K. at 8:37 PM EDT