Newsmax Joins in Pushing Bogus 'Obama Talks to Iran But Not GOP' Talking Point
Topic: Newsmax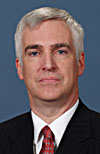 Fred Fleitz writes in his Oct. 2 Newsmax column:
Congressional Republicans are rightly outraged about President Barack Obama's eagerness to negotiate with Iran over its nuclear program while he refuses to meet with House Speaker John Boehner to discuss GOP differences over Obamacare that led to Obama's government shutdown.

There also has been a stark difference in the rhetoric Obama and his allies have used concerning Iran and what they are saying about congressional Republicans.

[...]

It's clear that the Obama administration is prepared to put just about everything on the table in talks with Iran. But President Obama refuses to talk with the GOP at all.
As we've pointed out, Obama has met with Boehner and other Republican congressional leaders to seek a reasonable compromise to end the government shutdown -- something the Republicans aren't too keen on looking for.
Posted by Terry K. at 9:59 PM EDT