WND's Farah Returns to Matthew Shepard Revisionism
Topic: WorldNetDaily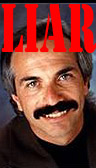 We said we'd get back to Joseph Farah's Sept. 18 WorldNetDaily column, and so here we are.
The main thrust of Farah's column is to engage in Matthew Shepard trutherism:
A new book, "The Book of Matt," written by a sympathetic "gay" man, Stephen Jiminez, finds that virtually everything that has been reported about Matthew Shepard's death is wrong.

To recap the story, Shepard was a homosexual in Laramie, Wyo., who was unquestionably tortured and murdered in 1998 and left hanging on a fence. It was not until a day later that his body was discovered.

Police found a bloody gun linked to the crime along with Shepard's shoes and wallet in the trunk of two men – Aaron McKinney and Russell Henderson.

On those facts, there is little question.

But, according to the new book, the story told by the murderers that they killed Shepard because he was a homosexual who came on to them is flat wrong. Shepard was not a martyr in the battle with homophobia. He was simply the victim of consensual homosexual relationship gone bad – as too many do.

Nevertheless, over 15 years, Shepard has achieved a degree of sainthood in the homosexual movement. He became the poster boy for hate-crimes laws, movies, songs, books, scholarships and disinformation galore. He's been an icon of the phony war on homophobia that has chilled free speech and free association.

It turns out the hero was a meth dealer. He and the lead attacker were also friends and lovers. His death was the result of a squabble over a large amount of meth he had in his possession.
Farah doesn't mention that McKinney -- the person that Shepard was supposedly in a "consensual homosexual relationship" with -- mounted a "gay panic" defense during his trial, and he doesn't mention that McKinney has denied any such relationship.
Most importantly, Farah doesn't tell you that Jimenez (whose name Farah misspells) served as a producer for a 2004 segment of ABC's "20/20" that first forwarded such reality-denying claims, which set off a wave of Shepard revisionism at WND when it first aired.
Further, as Media Matters points out, Jimenez is also a friend of Henderson's defense attorney, which further raises questions about his objectivity.
Again, Farah also wrote this in his column:
But there's a lesson to be learned here for those who prefer the truth to actions based on lies: Some unscrupulous people will twist and distort reality to achieve their objectives. In fact, some will do anything to get their way politically. They will use any means necessary – including, but not limited to, total fabrication.
Farah most definitely won't tell you that he will eagerly twist reality and engage in fabrication to get his way politically. And the way Farah wants to push is that gays are lying scum, and he doesn't care about facts that prove otherwise.
Posted by Terry K. at 7:52 PM EDT