Obama's Victory = WND's Failure
Topic: WorldNetDaily
The Media Research Center isn't the only ConWeb component that's bitter about President Obama's re-election. Here's the original image (since changed) that accompanied WND's front-page carousel promo for its lead election story: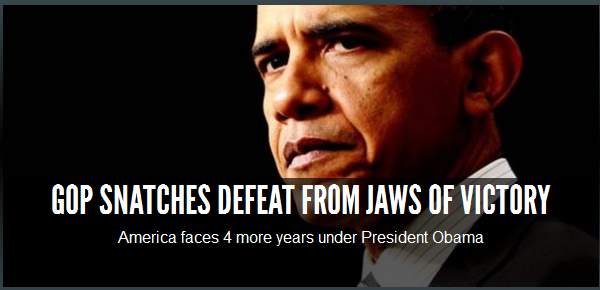 The carousel image has since been changed to a less evil-looking one.
But that's nothing compared to WND editor Joseph Farah's declaration that Obama's re-election is nothing short of "God's judgment" against America:
For those of us who fundamentally reject Obama's policies, things are going to get very rough for the next four years. We have allowed our fellow Americans to pronounce judgment on the nation.

That's what Obama represents to me – God's judgment on a people who have turned away from Him and His ways and from everything for which our founders sacrificed their lives, their fortunes and their sacred honor.
Farah seems not to have considered that Obama's re-election may be God's judgment against him.
For the past four years, WND has dedicated itself to the personal destruction of Obama, essentially functioning as a super PAC. It sought to denigrate Obama in every way possible -- from its hiding the truth about its birther obsession to peddling fraudulent documents to anonymous speculation about Obama's sex life to promoting discredited filmmakers to telling the same lies over and over again.
The price of WND's politics of personal destruction is that nobody beleives WND. Obama's victory is WND's failure.
Perhaps Obama's re-election is God's way of saying that he will no longer tolerate the lies and the libel and the smears coming from Joseph Farah and those he employs at WND.
If Farah really is the man of God he repeatedly portrays himself as, he should apologize to WND's readers for the bile and the lies his website has published over the years. Then, he should follow his own advice by humbling himself before God and begging for forgiveness.
Posted by Terry K. at 2:06 PM EST