WND Mixes Race-Baiting, Obama-Hate
Topic: WorldNetDaily
The promo email WorldNetDaily sent out for an Oct. 27 article was a conspiratorial affair:
The 20th Amendment to the U.S. Constitution clearly says: "The terms of the President and Vice President shall end at noon on the 20th day of January".

But if Barack Obama loses his bid for a second term, he won't be vacating the executive mansion on Jan. 20. And he has precedent on his side.

Here's why ...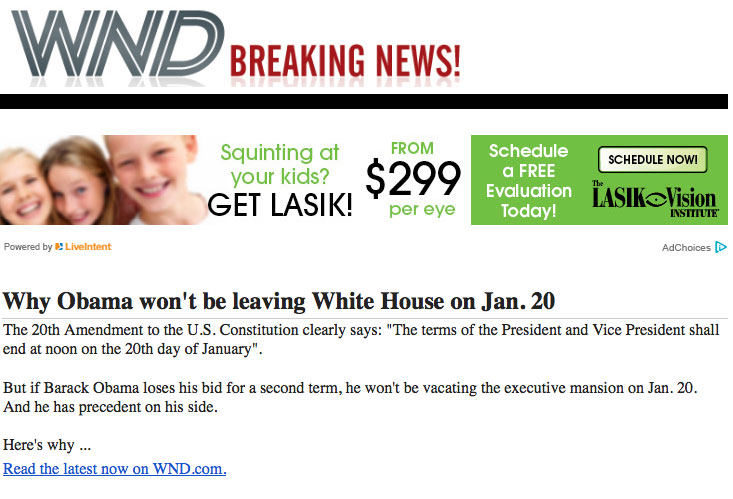 Despite WND's implication, Obama will not be defying authority by refusing to leave the White House if he loses. The
actual article
is much more tame on that front: It points out that due to the Martin Luther King holiday, inauguration day will fall on Jan. 21.
There is nothing nefarious going on -- but that doesn't keep WND from pretending that there is. And that's where the race-baiting comes in.
(And you know how WND loves its race-baiting.)
WND notes that "Obama, the first black president, was sworn in on the traditional Inaugural date of Jan. 20 – the day before the holiday," and then gets all paranoid, quickly moving from suggesting that District of Columbia officials will be violent to recounting purported threats of violence by "Obama supporters":
But will civility rule on Jan. 21?

Protests are already being planned. No matter who the victor is Nov. 6, local District of Columbia officials have already announced they will be out along the parade route demonstrating over Washington's lack of budgetary and representative autonomy. Even Mayor Vince Gray will be among the protestors.

"While we don't have concrete plans at this stage, we all very cognizant of the opportunity we have in front of us," he said.

Meanwhile, the social media have been abuzz with threats by Obama supporters to riot if Romney wins.

[...]

Not content with threats to riot if Romney wins in November, some Obama supporters have announced on Twitter they intend to vandalize and burn down the White House if the GOP candidate is victorious, Twitchy reports.

"If Romney wins I'm blowing up the White House (sic)," tweeted "Davis." The tweet was later deleted, but not before being captured by Twitchy.

"Romney gets on my nerves. If he wins I'm throwing black paint on the white house (sic)," added "Octoburr 30th."

Twitter user "Panther Biddness" threatened to assault the White House with a contingent of Black Panthers, while another threatened to defecate on the White House lawn.

Several threatened to burn the White House down and one individual said he would shoot the presidential residence.

"[I]f romney wins, i will set the white house on fire and make it look like an accident (sic)," another grammatically-challenged individual wrote.

So who is going to be providing security for the Inauguration Jan. 21, 2013?
WND fails to provide any evidence -- links or screenshots -- of the actual existence of any of these alleged "social media" posts.
Presumably, this article filled with paranoia and hate will generate yet another column by WND editor Joseph Farah wondering why nobody pays attention to his website.
Posted by Terry K. at 10:11 PM EDT
Updated: Wednesday, October 31, 2012 11:05 PM EDT