WND Still Pushing Klein's Failed Anti-Obama Book
Topic: WorldNetDaily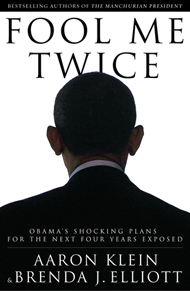 Aaron Klein's Obama-bashing book "Fool Me Twice" had absolutely no effect on the presidential election, despite a brief appearance on the New York Times bestseller list. But that's not keeping WorldNetDaily from pushing the book.
A Nov. 8 WND article insisted Klein's book "may now be more relevant than ever" because it purportedly shows how Obama plans to "complete the fundamental transformation of America first pledged in 2008."
In fact, despite WND's claim that Klein's book details what Obama will do, it's nothing but Klein's usual blend speculation and guilt-by-association.
WND touted Klein's book again in a Nov. 11 article claiming that the book "documents how Obama may go about granting mass amnesty in his second term."
Note the weasel word "may." That tells you the slipperiness with which Klein and co-author Brenda J. Elliott wrote the book. It's all speculation, not fact, despite WND's claim that the book "documents Obama's specific second term agenda in all major policy areas."
The article -- and,, presumably, Klein's book -- baselessly assumes that "immigration reform" and "amnesty" are the same thing. As we've detailed, "amnesty" has a specific meaning apart from immigration reform, and it's a term used (and misused) by critics of reform.
Posted by Terry K. at 3:25 PM EST
Updated: Wednesday, November 14, 2012 3:29 PM EST