WND's 'News' Coverage Of Mar-a-Lago Raid Was Highly Biased
Topic: WorldNetDaily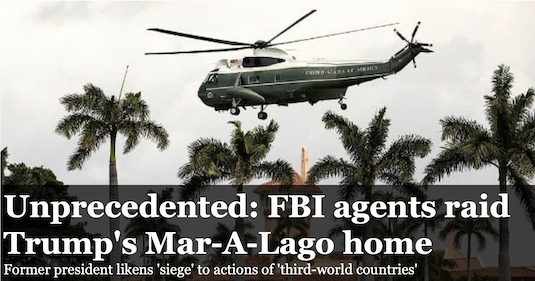 It's sadly indicative of WorldNetDaily's aggressively right-wing bias that its initial "news" story on the Aug. 8 FBI search of Donald Trump's Mar-a-Lago compound, by Art Moore, leads with several paragraphs of Trump whining about it:
Former President Trump said Monday evening his Mar-a-Lago home in Palm Beach, Florida, was "under siege" by a "large group" of FBI agents in a predawn raid.

"Nothing like this has ever happened to a President of the United States before," he wrote in a statement.

"After working and cooperating with the relevant Government agencies, this unannounced raid on my home was not necessary or appropriate," Trump said. "It is prosecutorial misconduct, the weaponization of the Justice System, and an attack by Radical Left Democrats who desperately don't want me to run for President in 2024, especially based on recent polls, and who will likewise do anything to stop Republicans and Conservatives in the upcoming Midterm Elections."

Trump said that such "an assault could only take place in broken, Third-World Countries."

"Sadly, America has now become one of those Countries, corrupt at a level not seen before," Trump said.

He alleged the FBI agents broke into his safe.

What is the difference between this and Watergate, where operatives broke into the Democrat National Committee?" he asked. "Here, in reverse, Democrats broke into the home of the 45th President of the United States."
Moore's story is filled with quotes of outrage and speculation from Republicans and Trump toadies, including Alan Dershowitz -- he made no effort to quote anyone who wasn't, aside from a mention that "An FBI source confirmed to [Fox News] that FBI agents from Washington, D.C., conducted the raid.
Bob Unruh followed that with a hyperbolically alarmist claim by another trump toadie:
re Democrats in power in Washington under the Joe Biden administration capable of trying to assassinate President Donald Trump to prevent him from running in 2024?

A report in the Daily Mail reveals that former New York Police Department Commissioner Bernard Kerik believes they absolutely are.

"I would not put assassination beyond these people," he said, if the FBI raid this week on Trump's home fails to lead to criminal charges.

Kerik said he was "deathly afraid" for the former president when federal authorities, weaponized against their political foes by the Biden administration, went to Mar-a-Lago.
Unruh made no effort to make his article fair and balanced by seeking out other views pointing out Kerik's bizarre claims. He also didn't mention that Kerik is a convicted criminal who received a pardon from Trump.
Moore returned to uncritically spout right-wing talking points attacking the judge who signed off on the FBI's search of Mar-a-Lago because he allegedly "was a donor to President Obama and represented employees of convicted pedophile Jeffrey Epstein." Moore didn't mention that Dershowitz, whom he quoted in his initial article, was Epstein's defense attorney and, thus, has a much closer connection to Epstein than the judge did -- indeed, he was the guy who engineered "the controversial 2007 deal that allowed Epstein to plead guilty to state charges rather than federal crimes" that Moore referenced in this article. Funny that Moore didn't mention any of that when quoting Dershowitz defending Trump.
Unruh echoed his hyping of Kerik in an Aug. 12 article under the alarmist headline "Leftists now suggesting executions over Mar-a-Lago raid":
Kerik said he was "deathly afraid" for the former president when federal authorities, weaponized against their political foes by the Biden administration, went to Mar-a-Lago.

Those fears gained added substance on Friday when Michael Hayden, a government official under George W. Bush, Barack Obama and Bill Clinton, "responded approvingly" to social media demands for "executions" for those who "spill nuclear secrets."

There have been claims that the FBI raided Trump's home in search of documents containing nuclear secrets. There also have been claims the FBI was there to hunt for anything Democrats could use against Trump in 2024, that the FBI planted evidence at Mar-a-Lago and even that the FBI planted listening devices there.

It is former CIA chief Michael Hayden who went on social media to endorse a suggestion for "executions" for those who spill nuclear weapons.
Unruh didn't explain how, exactly, a former CIA chief could be considered a "leftist" beyond noting that he endorsed Biden for president in 2020.
Posted by Terry K. at 6:56 PM EDT
Updated: Monday, September 12, 2022 7:03 PM EDT