MRC Misfires On Getting People To Trash CNN's Acosta
Topic: Media Research Center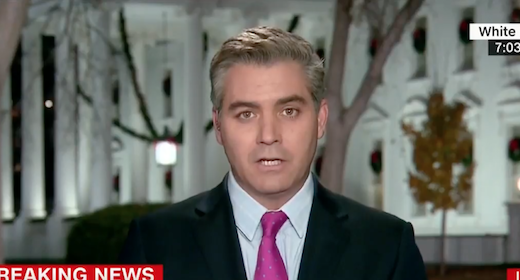 As part of its current war on Jim Acosta for failing to be a pro-Trump suck-up, the Media Research Center is doing compliation pieces filled with people who say how terrible Acosta purportedly is.
The headline of a Nov. 15 item by Geoffrey Dickens declared, "Even Acosta's Reporter Peers Think He's Gone Too Far." He insisted: "It's not just President Donald Trump, White House press secretaries Sean Spicer and Sarah Huckabee Sanders who think Jim Acosta is out of control. Even some of his journalist colleagues think his antics are bad for journalism."
Dickens' first example of a "reporter peer," however, is Joe Concha. But he's not a White House correspondent -- he's currently a media reporter for The Hill. While he denies it, he's also conservative; otherwise, the MRC wouldn't be quoting him regularly for hew adherence to its right-wing agenda, under headlines like "Joe Concha: Media's Trump Anger Mostly 'Performance Art at This Point'" and "Joe Concha Trashes the Media in 2017: It 'Sticks to Your Boots,' Cites MRC."
In other words, not really a "reporter peer" at all beyond being in the same general profession.
Dickens also cited anonymous CNN co-workers attacking Acosta in a Politico article. Wait -- doesn't the MRC normally despise anonymous sources? Only when they don't benefit the MRC's agenda, apparently.
The same day, there was an anonymously written piece noting how "we at the Media Research Center reached out to conservative leaders around the nation" to get reaction to Acosta, and "hese leaders responded with frustration at CNN's dramatic publicity stunt." Among the responses was this:
The Acosta-intern video shows what it shows, whether CNN likes it or not. We can disagree over how to characterize the video, but any claim that there was no contact is akin to, as CNN would put it, calling an apple a banana.

James O'Keefe
Founder
Project Veritas
Yes, that James O'Keefe -- whose very brand is publicity stunts and doctored videos -- apparently defending the doctored video sent out by White House press secretary Sarah Huckabee Sanders showing Acosta's contact with a White house intern trying to take a microphone away from him as being more brutal than it actually was.
Maybe the MRC should screen its signatories closer before promoting them.
Posted by Terry K. at 6:09 PM EST