Newsmax Doesn't Disclose It Published Corsi's Book
Topic: Newsmax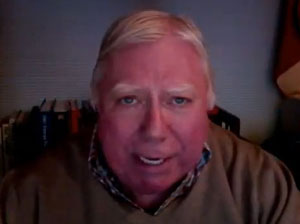 When right-wing conspiracy theorist and former worldNetDaily writer got subpoenaed to testify before a grand jury looking into Russian election interference, Newsmax was quick to exploit it:
Jerome Corsi, author and investigative writer, has been served papers to appear before the Mueller grand jury in Washington this Friday to answer questions about his longtime Trump confidante Roger Stone, according to a report in The New York Times.

Corsi is the author of "Killing the Deep State: The Fight to Save President Trump," a New York Times bestselling book that has been harshly criticial of the probe of special counsel Robert Mueller.

"He fully intends to comply with the subpoena," Corsi's lawyer David Gray told the Times, adding that his client anticipated "it has to do with his communications with Roger Stone."

A mainstay on talk radio and TV shows, including Newsmax TV, Corsi has claimed Mueller has overreached his legal authority. Corsi has stated that President Trump's recent tweet that a "criminal deep state" is seeking to end his presidency emanated from evidence and charges he makes in his new book.
Despite touting his appearances on its TV channel, Newsmax failed to disclose that it published Corsi's book through its Humanix Books division. That lack of disclosure came as Newsmax used the article to promote the book. One promotion stated: "Corsi's "Killing the Deep State" was published last February and has been the #1 bestselling conservative critique of the Mueller investigation. [Editor's Note: Get Jerome Corsi's "Killing the Deep State" at bookstores everywhere or get the FREE Offer – Go Here Now." That's your usual Newsmax loss-leader offer, in which it basically gives away the book and a free, short subscription to Newsmax's magazine in the hopes that people will like the magazine or forget to cancel it before the free offer ends to keep from automatically being charged $39.95 for a full year's subscription.
Newsmax also failed to mention that since early 2017, Corsi has been employed by fellow conspiracy-monger Alex Jones at Infowars, where he served as its White House correspondent. According to the New York Times, which broke the news of Corsi's subpoena, he apparently no longer works there.
The article also gushed: "Corsi's book has sparked serious interest among Trump's most loyal supporters. And TV host Bill O'Reilly has stated that the left "hates" Corsi's book because of its strong defense of President Trump." In fact, the book is full of Corsi's usual conspiratorial claptrap that has been his stock in trade for years.
Posted by Terry K. at 10:14 AM EDT