CNS Trump Stenography Watch
Topic: CNSNews.com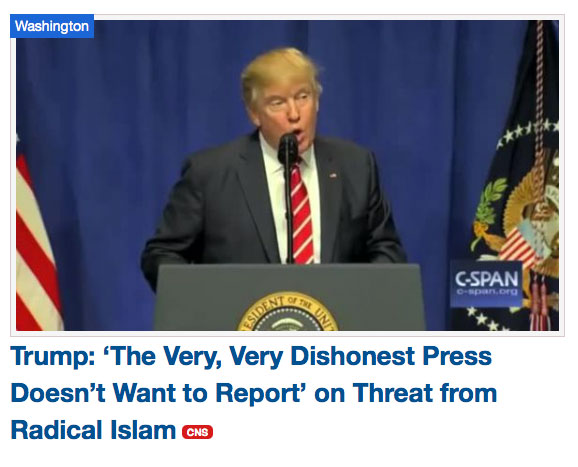 We've established that CNSNews.com is little more than a stenographer for the Trump administration. It was Trump's obedient servant again this week for President Trump's claim that the media isn't covering reports of terrorist attacks.
Melanie Arter (nee Hunter) led the stenography brigade with her loyal transcription of how Trump said "'the very, very dishonest press' doesn't want to report on the threat posed by radical Islamic terrorists determined to strike the homeland." CNS managing editor Michael W. Chapman followed up with an article copying-and-pasting the "list of 78 terrorist attacks" the Trump White House says were underreported.
CNS won't report, however, what a mess that list is (the typos that CNS faithfully reproduced, wuch as the repeated misspellings of "attack," are the least of it). Actual reporters at the Washington Post point out that many of the attacks listed did not result in fatalities, the list omits non-Western victims, it includes attacks such as the San Bernardino and Orlando nightclub attacks that indisputably not underreported, and appears to list one attack that was a workplace dispute and not terrorism.
Note to CNS: Serving as a stenographer doesn't fulfill your self-proclaimed mission statement to "fairly present all legitimate sides of a story."
Posted by Terry K. at 6:32 PM EST