The MRC's Terminology Issues
Topic: Media Research Center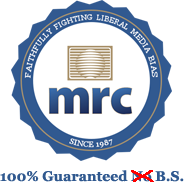 The Media Research Center's Brad Wilmouth has issues with terminology in the media.
In a Dec. 10 post, he complains that anti-abortion activists were accurately described as "anti-abortion":
On Saturday's New Day on CNN, during a seven-and-a-half-minute segment dealing with Ohio's "Heartbeat Bill" that seeks to ban abortion after a heartbeat can be detected, partisan phraseology associated with the liberal side of the issue were repeatedly used by the various on-air CNN personalities who commented on the issue, while the only couple of times when the word choice preferred by conservatives could be heard was in a soundbite from a pro-life activist when the word "pro-life" was used.

The phrase "right to choose" was heard five times, the word "anti-abortion" was heard twice, and the word "pro-choice" once. None of the CNN staff used the term "pro-life" at all, and the only utterance of a word choice not in line with the liberal point of view by any of the CNN staff was a labeling of Supreme Court Justice Anthony Kennedy as being "pro-abortion rights."
Wilmouth doesn't explain why "anti-abortion" isn't an accurate description of activists who oppose abortion. He also doesn't explain why "pro-life" should be used in the media instead, even though it's a vague, fuzzy term that doesn't have that harsh "anti" phrase in it and is designed to make anti-abortion activists appear less strident
Two days later, Wilmouth was ranting about a different terminology issue:
Long-term followers of American politics will recall that about a decade ago, the left began pushing the phrases "global warming denier" and "climate change denier" into the public conversation as a way of discrediting those who are skeptical of the preferred liberal take on global warming theory. The expression was reminiscent of the term "Holocaust denier" and was meant to suggest that those who have doubts about global warming are as marginal in their thinking as Holocaust denier conspiracy theorists.

CNN's tendency to use this preferred liberal terminology that was founded as a pejorative against conservatives is just another example of how the left influences such big media outfits that claim to put out a balanced and unbiased news product. Since the announcement late last Wednesday that Oklahoma Attorney General CEO Scott Pruitt will be President-elect Donald Trump's choice to head the EPA, CNN has repeatedly tagged him as a "climate change denier" as if this were a neutral or proper terminology.

About half of the allegedly unbiased -- but in reality closeted liberal -- CNN news anchors and several correspondents have tagged Pruitt -- a skeptic of global warming theory -- as being a "denier," and usually without even qualifying their choice of words as a liberal take on his views.
But if Pruitt is denying the scientific consensus that climate change is real -- he co-wrote at National Review that the "debate is far from settled" -- doesn't that make him, in fact, a denier?
Also, Wilmouth provides no support for his claim that "denier" is a "liberal" invented term.
Wilmouth also rehashed his abortion terminology complaint from earlier, and he made it clear that his goal is not neutral terminology but terminology that skews to his side of the ledger:
This use of wording more likely to be used by the left is reminiscent of similar practices by CNN on the abortion issue as terms like "anti-abortion," "pro-choice," and "woman's right to choose" are often used as if they were the proper terminology, without using terms like "pro-life" or "pro-abortion" that are the preferred word choices on the right.
In fact, "pro-abortion" is an inaccurate phrase because people who support abortion do not demand that every woman have one; they simply want to make the option available. Meanwhile, the ultimate goal of many "pro-life" activists is to outlaw abortion as much as possible, if not completely, which makes "anti-abortion" a very accurate term.
Posted by Terry K. at 5:46 PM EST