MRC Doesn't Fact-Check, Tries To Create Scandal Where None Exists
Topic: Media Research Center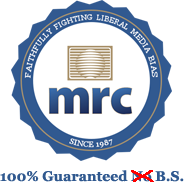 Mike Ciandella does his best to make his Aug. 13 Media Research Center article sound like a real scandal:
A new report suggested that liberal billionaire Tom Steyer's hedge fund profited from a $1 billion San Francisco light rail project pushed by House Minority Leader Nancy Pelosi, D-Calif. Steyer was also a big supporter of Pelosi.

Despite being quick to criticize conservative political donors, the morning and evening news shows on ABC, CBS and NBC have all ignored the allegation since the Washington Free Beacon broke the story Aug. 12.

According to Washington Free Beacon, Pelosi "steered more than a billion dollars in federal financing" to a transportation project to provide light rail access to the Mission Bay neighborhood in San Francisco. This access helped cause the property value of land owned by Steyer's hedge fund, Farallon Capital Management, to spike. Farallon has since sold all but two of those properties. Steyer gave at least $5,000 to Pelosi in 2011 alone.
But a closer look into the facts -- which Ciandella apparently didn't do -- disproves his suggestion of a direct quid pro quo.
The light-rail line began construction in 2002, two years before Steyer's Farallon hedge fund bought into Mission Bay. The majority of the line -- known as the Third Street Light Rail project -- including the part that goes past Farallon's property, was completed in 2007, and it benefited an entire section of San Francisco, not just the land Farallon owned. Also, the line in question is pretty long, about 5 miles, and Farallon had 30 acres at most. And the Free Beacon concedes that Pelosi was securing funds for the project before Farallon bought land there, which Ciandella didn't note.

The Free Beacon also notes that the $967 million Pelosi helped obtain for the line -- the vast majority of the money Ciandella is writing about -- came in 2012. But that money is for an extension of the line (called the Central Subway) and would not run past Farallon-owned land.
Then, for some reason, Ciandella starts ranting about George Soros: "Media is home turf for Soros. He has poured more than $65 million into media and journalism groups through his Open Society Foundations since 2000." But as we've noted, that's less than what conservative billionaires Richard Mellon Scaife, Rupert Murdoch and Sun Myung Moon have spent each year over the past couple decades to keep afloat the three right-wing newspapers they respectively control (the Pittsburgh Tribune-Review, the New York Post and the Washington Times).
Posted by Terry K. at 9:50 PM EDT