NewsBusters Makes Anti-Obama Screed Quietly Disappear
Topic: NewsBusters
Mark Finkelstein used a Aug. 20 NewsBusters post to promote an anti-Obama screed:
Weak Sauce: Obama White House 'Appalled' By ISIS Beheading of Journalist

"Appalled"? Really? Gee, why didn't President Obama go all out and announce that he was "dismayed" by the ISIS beheading of an American journalist. Was "appalled" really the strongest reaction this administration could muster? Apparently, yes. Here was the White House statement: "we are appalled by the brutal murder of an innocent American journalist, and we express our deepest condolences to his family and friends."

Let's try out a statement that an American president who truly represented our nation's values and interests might have issued: "The search is underway for those who were behind these evil acts. I have directed the full resources of our intelligence and law enforcement communities to find those responsible and to bring them to justice. We will make no distinction between the terrorists who committed these acts and those who harbor them." Oh, wait. Can't have that. That was the statement that President George W. Bush delivered on September 11, 2001. More after the jump.

Guess President Obama didn't want to incite or offend the terrorists. So rather than expressing anger and the determination to avenge this murder, Obama contents himself with such weak sauce. That's not how you deal with and defeat terrorists. Will this president ever figure that out?
A day later, however, Finkelstein's screed disappeared. Why? Perhaps because it was so blatantly partisan, and such partisan activity violates the tax-exempt status of its parent, the Media Research Center -- something the MRC occasionally has trouble understanding.
NewsBusters didn't explain any of that to its readers, though -- it simply deleted Finkelstein's post without explanation or apology, and the URL for the post returns only an "Access denied" message. Talk about weak sauce.
It's still in Bing cache, though, so read it while you can. Oh, and here's a screenshot for posterity: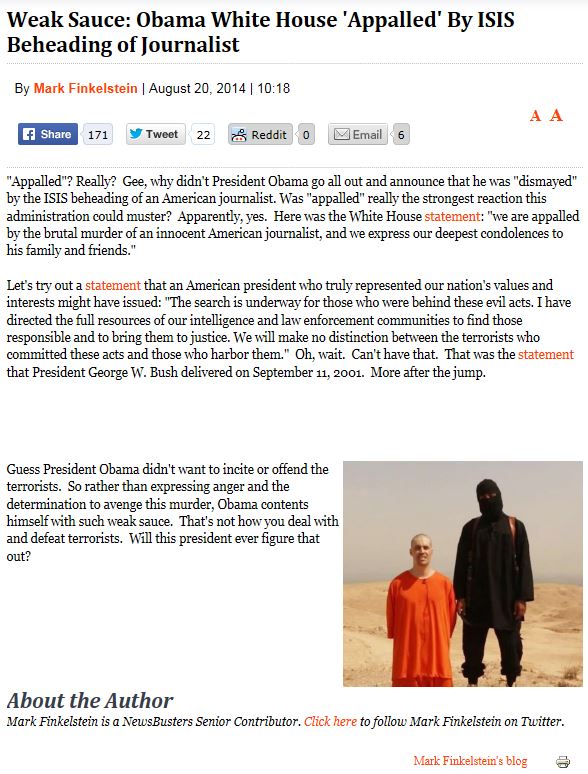 Posted by Terry K. at 2:54 PM EDT