Newsmax-Bernard Kerik Rehabilitation Watch
Topic: Newsmax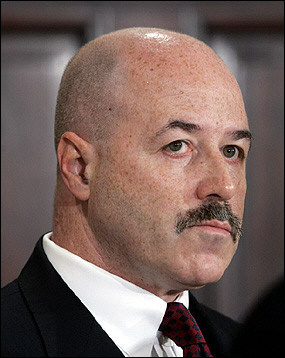 Newsmax has been working for years to rehabilitate the reputation of Bernard Kerik before, during and after his three-year jail term for corruption. And it appears it won't be stopping soon.
The latest step is Newsmax giving Kerik a lengthy Aug. 24 column in which he opines on "What the Deaths of Michael Brown and James Foley Can Teach Us." Kerik defends the militarization of police forces, though he concedes that the Ferguson, Missouri, police overreacted to initial protests of Brown's death.
The vast majority of Kerik's column is defending militarization of police; despite the headline, he doesn't get to Foley until the last few paragraphs and he doesn't say what his death can teach us, only that "there is a lot for us to learn from what happened to James Foley."
The byline of Kerik's article, in addition to misspelling his first name, identifies him as "Police Commissioner – City of New York (Retired)." That's quite an appeal to authority there, especially given that Kerik was commissioner for only 16 months.
Posted by Terry K. at 10:03 PM EDT