Newsmax's Hirsen Mentions His Old Buddy Mel Gibson
Topic: Newsmax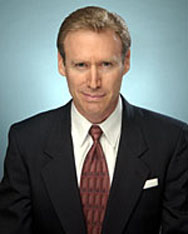 Here's something we haven't seen in a while: Newsmax columnist James Hirsen mentioning his buddy Mel Gibson.
In a May 22 column on the battle berween Harvey Weinstein and Warner Bros. over the title of the upcoming film "The Butler," Hirsen recounts a similar battle a few years before:
Weinstein was actually on the other side of a film title dispute about a decade ago, when he asserted a claim on the title "The Passion," based on a title registration with the MPAA for a 1987 novel of the same name.

Mel Gibson had originally planned on using "The Passion" title for a movie that he was producing and directing, a film that ultimately went on to experience huge box-office success under a new name, "The Passion of the Christ."
Hirsen doesn't mention, however, that he played a role in promoting Gibson's film.
As we've documented, Hirsen devoted an entire chapter of his 2005 book "Hollywood Nation" to Gibson and "The Passion of the Christ," in which he admits that he "would visit Icon's (Gibson's production company) offices on numerous occasions and would be in close contact with Mel and his associates" in promoting and defending the film.
Hirsen also heads an organization that owns a 26-acre tract of land in western Pennsylvania purchased for the purpose of permitting Gibson's father to found a branch of a dissident ultraconservative Catholic sect that rejects modern church reforms. Hirsen did not disclose his insider relationship with Gibson while using his Newsmax column to promote Gibson's work.
Hirsen has endeavored to paper over Gibson's history of hateful and bigoted remarks; he only disclosed his relationship with Gibson in coming to his defense in a 2010 outbreak of hatred.
Posted by Terry K. at 1:37 PM EDT