MRC Gushes Over Joe Rogan Smearing Stelter As 'Prostitute' For Hanging With WEF 'Lizard People'
Topic: Media Research Center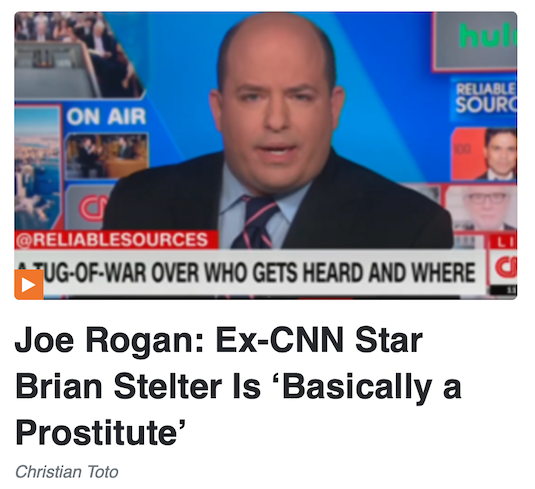 We've shown how the Media Research Center's Brian Stelter Derangement Syndrome didn't fade after he left CNN, then intensified after he took part in a panel at the World Economic Forum, a regular target of right-wing conspiracy theories. That happened again in a Feb. 18 post by right-wing movie critic Christian Toto, which began with the usual partisan attacks on Stelter:
Podcaster Joe Rogan hasn't forgotten Brian Stelter's reign of error at CNN.

Stelter, former host of the far-Left channel's "Reliable Sources" program, got fired last year after new CNN CEO Chris Licht allegedly vowed to bring balance to the news network.

Conservatives routinely skewered Stelter for his cartoonishly biased approach to the news. The analyst focused much of his ire against Fox News, for example, while all but ignoring the Left's ideological network, MSNBC.

The Free Press's Bari Weiss skewered Stelter, and his inability to call out the media, to his face during a 2021 appearance on "Reliable Sources."
Toto eventually got to the point of his derangement -- complaining that Stelter didn't go away after leaving CNN and repeating Rogan's attacks on Stelter for taking part in that WEF panel:
Now, he's landed a gig at Harvard University as the school's Walter Shorenstein Media and Democracy Fellow. He also snagged a high-profile moderating gig at last month's World Economic Forum.

The subject? Battling misinformation in the modern age, a subject Stelter knows all too well. Except he's incapable of calling out his sins, or those committed by his former employer or a media landscape that buried the biggest news story of the 2020 presidential election.

The Hunter Biden laptop scandal.

Instead, Stelter tag-teamed with other WEF officials to demand more censorship, not less. And that's why Rogan and journalist Matt Taibbi let him have it.

The two pounded Stelter on the latest episode of the "Joe Rogan Experience," heard exclusively on Spotify.

"[Stelter] looked very comfortable there, didn't he?" said Taibbi, a left-leaning journalist aghast at mainstream media corruption.

"Of course he does. He's with evil lizard people that are trying to control the world. That's his bosses… I've been around the evil lizard people," Rogan said.

"He looked as happy as maybe he's ever been," Taibbi said.

"He's supposed to be a journalist, but he's not even good at that. So what he's doing now is, he's holding water for the evil leaders of the world who want to institute hate speech policies nationwide and centralized digital currencies, and they want everybody to eat bugs, and you will own nothing, and you will be happy," Rogan said. "This is the f***ing people he's working for now. He's basically a prostitute."
Tot is apprently cool with Rogan promoting the fringe "lizard people" conspiracy theory and maliciously smearing Stelter as "basically a prostitute." He didn't explain why misinformation shouldn't be countered, and he certainly didn't mention that Rogan has a history of spreading misinformation (which the MRC vociferously defended).
And because Toto and the rest of the MRC are Stelter-haters and Rogan-defenders, they censored the fact that Stelter shot down Rogan's attack on him. Mediaite reported:
Former CNN host Brian Stelter shot back at podcaster and comedian Joe Rogan after being accused of working for the "lizard" people behind the World Economic Forum.

Rogan discussed the global summit in Davos, Switzerland held last month with journalist Matt Taibbi when Stelter's name came up, both men mocking Stelter's appearance on a panel, which came just shortly after his Reliable Sources was canceled at CNN.

According to Stelter, he had no "bosses" at the panel like Rogan's mocking suggested. Stelter went to Davos at his own expense.

"Joe Rogan got it all wrong, again. The World Economic Forum did not 'hire' me to 'work' in Davos. I went there on my own dime to write about the conference," Stelter tweeted in response to a Mediaite article covering the Rogan and Taibbi interview.

Stelter also responded to a story from the New York Post about Rogan's comments, telling Rogan to "call" him if Rogan "wants to tell his listeners the truth."

"I normally ignore Rogan's rants. But the @nypost wrote a story and asked for comment, so I said, if Rogan wants to tell his listeners the truth, he can call me," he tweeted.
But telling the truth doesn't advance MRC narratives, so Toto doesn't want his readers to know about it.
Posted by Terry K. at 1:59 PM EDT
Updated: Thursday, March 30, 2023 2:17 PM EDT