Another WND Columnist Peddles Pro-Russia and Anti-Ukraine Propaganda
Topic: WorldNetDaily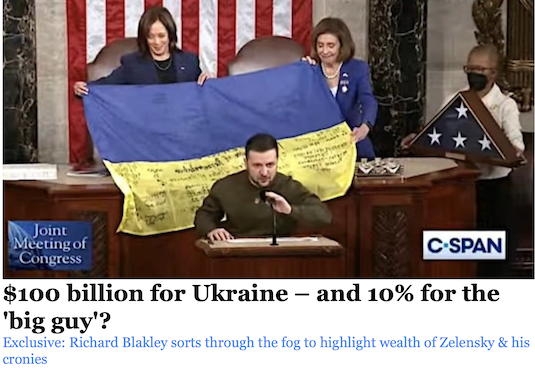 Add another name to the list of WorldNetDaily columnists (Scott Lively, Jim Darlington, Joseph Farah) who serve as propagandists for Vladimir Putin by serving up pro-Russia and anti-Ukraine talking points. Richard Blakley spent his Jan. 6 column repeating claims that Ukrainine president Volodymyr Zelensky is too close to a Ukrainian oligarch, Ihor Kolomoisky, using that as an excuse to oppose more U.S. aid to Ukraine. Blakley didn't mention, however, that Zelensky is cracking dodwn on corruption in addition to defending his country against Russia and that Kolomoisky has not been immune; a few weeks after Blakley's column appeared, Ukraninan authories raided Kolomoisky's home following the seizure of two oil companies following the alleged discovery of corruption.
For his Jan. 13 column, Blakley sought to justify Russia's invasion of Ukraine by repeating discredited Russian propaganda about biolabs in Ukraine:
It is amazing to look at the history of Russia and Ukraine. They have a rich, tangled history that connects them together going back "more than 1,000 years with to a time when Kyiv, now Ukraine's capital, was at the center of the first Slavic state, Kyivan Rus, the birthplace of both Ukraine and Russia." Who would bomb your own birthplace? Why would Russia attack Ukraine?

It is interesting that Russia invaded Ukraine on Feb. 24, 2022, but prior to this invasion, dating back as far as 2018, Russia had made claims that there were U.S. financed bio-labs in Ukraine making "biological weapons that would be spread by specially trained migratory birds and diseased bats." Russia has also raised the concerns of the use of "unmanned aerial vehicles [UAV] for the aerial release of … infected mosquitos" where the spread of these "highly contagious" agents "could wipe out 100 percent of the enemy['s] troops." Some of the dangerous pathogens being studied are plague, anthrax, tularemia, cholera, leptospirosis, brucellosis, coronavirus, filoviruses and other deadly diseases.

[...]

The Russian Defense Ministry stated that the bio-labs in Ukraine have been urgently destroying samples of deadly pathogens since the Russian military operation began. It was also stated that "Ukraine was close to building a plutonium-based dirty bomb nuclear weapon."

So why would Russia attack Ukraine? President Putin is quoted as saying that a "network of Western bioweapons labs" constituted one of the justifications for Russia's invasion of Ukraine.

Since Dec. 25, Putin has twice extended the opportunity for peace, only to be rejected by Ukraine. After all, if peace occurs, Ukraine would have to give back the $45 billion the U.S. Congress voted to given them as part of the omnibus spending bill, which Biden signed into law Dec. 29 – and then how would "the big guy" get his 10%?

So is Biden's continued throwing of money at Ukraine a good decision for America? I think Obama's former defense secretary Robert Gates answered this question best. Gates stated, Biden has "been wrong on nearly every major foreign policy and national security issue over the past four decades."
Blakley didn't explain why anyone should believe what Russian propagandists have to say.
Blakley used his Jan. 26 column to blame President Biden for Russia's invasion of Ukraine for [checks notres] calling out Russian interference in U.S. presidential elections:
So, let's see, Biden orchestrated numerous disastrous economic initiatives in January of 2021. In February of 2021 Biden's plans are already causing bleak prospects for the American economy. So what happened in March of 2021? Biden was busy stating that Russian Leader Vladimir Putin was "a killer with no soul." Putin had been peaceful for four years. Biden was railing and ranting concerning the 2020 elections, stating if it were found that Putin boosted the reelection chances of President Trump, the Russian leader would "pay the price."

Whether the 2020 election was clean or not, could someone tell Joe that the final numbers indicate he obtained more votes than any candidate in U.S. history, making him the winner, and remind Joe that he was sworn in as president on Jan. 20, 2021? Why would Biden be calling another world leader "a killer with no soul" and threaten him that he would "pay the price" concerning an election Biden won? Biden's words caused Russia to recall its Washington ambassador, and the U.S. recalled its Russian ambassador too. Great job on world peace, Joe, after being in office for only two months.
Um, doesn't Russia's invasion of Ukraine amply prove Biden's contention that Putin is "a killer with no soul"? Blakley also repeated the pro-Russia talking point that Ukraine wanting to join NATO was a legitimate excuse for Russia to invade Ukraine:
So let's see what happened just in the first three months of Biden's administration. 1) Ukraine appealed for membership in NATO, 2) Biden executes doomed economic policies, and 3) Biden calls Putin "a killer with no soul," promising that Putin would "pay the price" for an election Joe won, causing the recall of U.S. and Russian ambassadors.

What do you think Putin would do next with a perceived threat on his doorstep? He is going to flex his muscles.

[...]

Well, February was filled with tit for tat between NATO and Russia until Feb. 24 when Putin authorized a "special military operation" and the war in Ukraine commenced.

Pope Francis commented concerning the Russia-Ukraine war, saying, "We do not see the whole drama unfolding behind this war, which was, perhaps, somehow either provoked or not prevented." The pope recalled a conversation with a head of state who expressed concerns about NATO. When asked why, this head of state said, "They are barking at the gates of Russia. They don't understand that the Russians are imperial and can't have any foreign power getting close to them."

On March 18, 2022, Chinese President Xi and Biden had a conference, and Xi stated that "conflict and confrontation are not in anyone's interest." The next day, March 19, Chinese Vice Foreign Minister Le Yucheng blamed NATO for the war.
Neither Blakley nor Putin seem to understand that NATO is a defensive alliance that, unlike Russia, does not invade other countries.
Posted by Terry K. at 2:27 PM EST